312 Lobbygruppen, nur ein Dutzend Nicht-Wirtschafts-Verbände
Zehnte TTIP-Verhandlungsrunde konkretisiert Freihandelsabkommen
Wikileaks releases 'largest' trove of docs exposing secret TiSA trade deal
Published time: June 03, 2015 22:30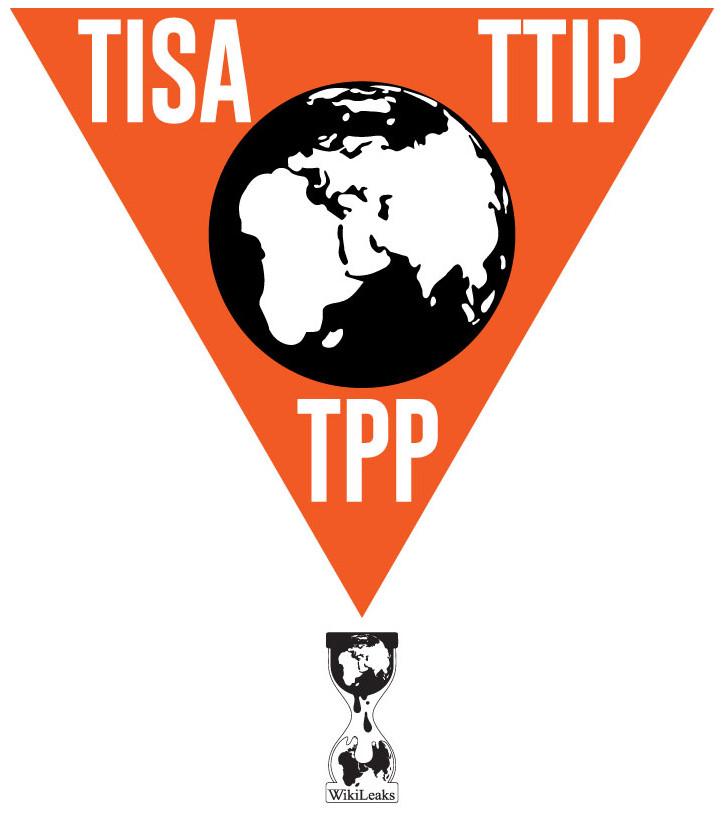 https://twitter.com/wikileaks/status/606088149379502080/photo/1
WikiLeaks has published 17 secret documents related to a controversial trade agreement currently being negotiated behind closed doors between the US, EU and 23 WTO members. NGO Global Justice Now called the leak "a dark day for democracy."
Read the full press release here.
TiSA Texts
Chapters and Annexes of the TiSA text under negotiation.
| Document | Document Date | WikiLeaks Publication Date |
| --- | --- | --- |
| TiSA Annex on Air Transport Services | February 9, 2015 | June 3, 2015 |
| TiSA Annex on Competitive Delivery Services | April 16, 2014 | June 3, 2015 |
| TiSA Annex on Domestic Regulation | February 20, 2014 | June 3, 2015 |
| TiSA Annex on Electronic Commerce | February 20, 2013 | June 3, 2015 |
| TiSA Annex on International Maritime Transport Services | February 10, 2015 | June 3, 2015 |
| TiSA Annex on Movement of Natural Persons | February 13, 2015 | June 3, 2015 |
| TiSA Annex on Professional Services | February 13, 2015 | June 3, 2015 |
| TISA Annex on Telecommunications Services | February 20, 2015 | June 3, 2015 |
| TiSA Annex on Financial Services | February 23, 2015 | June 3, 2015 |
| TiSA Annex on Transparency | January 23, 2015 | June 3, 2015 |
| TiSA Annex on Transparency | April 16, 2014 | June 3, 2015 |
| TiSA Annex on Financial Services | April 14, 2014 | June 19, 2014 |
TiSA Market Analyses
Market Access Negotiations documents are requests for a schedule of commitments from one of the negotiating Parties to another.
TiSA Related Documents
Other documents related to the TiSA negotiation process.
The documents released by the transparency group are allegedly associated with TiSA (Trade in Services Agreement) negotiations, which have been taking place in secret since early 2013. The participants of the talks include 24 WTO members, such as the US, EU and other countries including Turkey, Mexico, Australia, Pakistan and Israel.
According to WikiLeaks, the economies of the member countries now comprise two-thirds of global GDP. Their services "now account for nearly 80 percent of the US and EU economies," the group says, adding that "even in developing countries like Pakistan [they] account for 53 percent of the economy."
Read more
​WikiLeaks aims to crowdsource $100k as reward for missing TPP chapters
The European Commission web source says the participants in the agreement, which is set "to liberalize trade in services," "account for 70 percent of world trade in services." The "talks are based on proposals made by the participants," the EU source adds, saying that "TiSA aims at opening up markets and improving rules" in a number of areas, including financial services, transport and e-commerce.
A number of the world's economies, including all the BRICS countries – Brazil, Russia, India, China, and South Africa – are excluded from the TiSA negotiations, which purport to benefit the global economy.
The release of the 17 leaked documents on Wednesday is "the largest on secret TISA documents" and sheds light on "numerous previously undisclosed areas." It includes drafts and annexes on such issues as air traffic services, domestic regulation, telecommunications services and transparency, with documents dating from February 2013 to February 2015. The papers were to be kept secret until at least five years after the completion of the TiSA negotiations and the trade agreement's entry into force.
Saying that the leaks "reinforce the concerns of campaigners about the threat that TiSA poses to vital public services," Nick Dearden, director of Global Justice Now, said "there is no mandate for such a far-reaching program."
"It's a dark day for democracy when we are dependent on leaks like this for the general public to be informed of the radical restructuring of regulatory frameworks that our governments are proposing," Dearden said in a statement on Wednesday.
Read more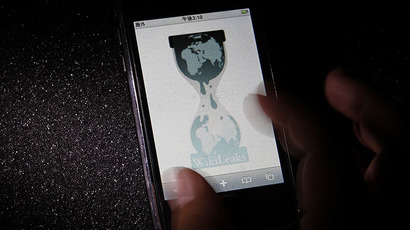 Secret trade agreement covering 68 percent of world services published by WikiLeaks
The Wednesday leak follows the publication of similar documents relating to TiSA negotiations in 2014. In a statement then published by WikiLeaks alongside the draft of a 19-page document, the group said that "proponents of TiSA aim to further deregulate global financial services markets."
The agreement is part of the strategic "T-treaty trinity": the Trans-Pacific Partnership (TPP), TiSA, and the Transatlantic Trade and Investment Partnership (TTIP). It complements the other two global trade agreements dealing with goods and investments, which are all currently being negotiated in secret. TiSA is believed to be the largest component of the three.
On Tuesday, WikiLeaks announced its intent to raise $100,000 to be used as a reward for the remaining chapters of the TPP trade deal. The whistleblowing platform has previously leaked TPP chapters, including sections on intellectual property rights, the environment, and investment. In appealing for funding, the group said access to the lacking chapters is "America's most-wanted secret."
http://rt.com/news/264745-wikileaks-secret-tisa-documents/
Eine Woche vor der neuen TiSA-Verhandlungsrunde am 6. Juli 2015 hat die Leakingplattform WikiLeaks gestern einen bisher geheimen "Kerntext" des geplanten und hoch umstrittenen Abkommens veröffentlicht. Zusammen mit TTIP und TPP bildet dieser Vertrag eine Dreifaltigkeit geplanter Freihandelsabkommen, die, angeführt von den USA, einen Großteil der Weltwirtschaft umfassen sollen. Die BRICS-Staaten sind von den Abkommen jedoch ausgeschlossen. Das Dokument belegt, dass transnationale Großkonzerne die größten Gewinner des Abkommens sein würden. Bisher staatliche Aufgaben wie Gesundheit und Bildung sollen im großen Stil privatisiert werden sollen. RT Deutsch fasst die wichtigsten Punkte der WikiLeaks-Dokumente zusammen.

………………..

Unkontrollierbare globale Kapitalströme

Ein weiteres grundsätzliches Element des Abkommens ist die Beschränkung staatlicher Kontrolle bezüglich transnationaler Kapitalströme und allem was damit zu tun hat. Auch hier ist eine zunehmende wirtschaftliche und finanzielle Instabilität ganzer Regionen die zu erwartende Folge.

= die Banken und Betrugs Casino Mafia will weiter machen und kauft sich die Politiker.


Das neue multilaterale Bankinstitut wird als Alternative zu westlichen Finanzierungsinstituten wie der Weltbank oder dem IWF betrachtet, die Kritikern zufolge zu stark unter dem Einfluss der USA stehen. Der Aufbau einer BRICS-Bank gilt in diesem Sinne auch als erster Schritt hin zur Überwindung der Dominanz des US-Dollars im weltweiten Handel.