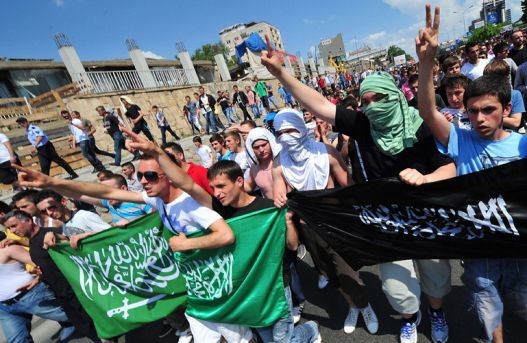 Ispred Krivičnog suda, gde su demonstranti prošli, nalazile su se jake snage policije.
Protest pod nazivom "Stop montiranim slučajevima" počeo je posle molitve u džamiji.
Grupa se organizovala preko društvene mreže "Fejsbuk" i oni traže da se oslobode uhapšeni u akciji "Monstrum" sa izgovorom da su Albanci muslimani, ali da nisu kriminalci i teroristi.
Okupljeni građani tvrde da je u policijskoj akciji privedeno 70 ljudi i da su oni bili maltretirani u policijskim stanicama.
Demonstranti su prethodno blokirali ulicu ispred džamije Jaja Paša.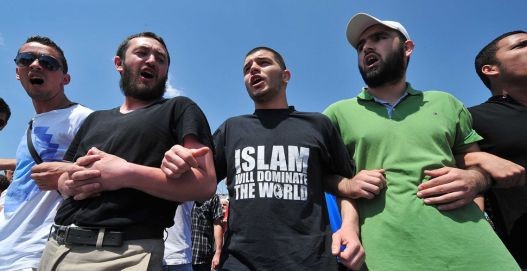 http://www.rts.rs/page/stories/sr/story/11/Region/1096132/%22Alahu+akbar%22+na+ulicama+Skoplja.html
Macedonia Is Rushing Headlong into NATO Membership: the Cons are Evident, What About the Pros?
A nation of two million is trying to revive its efforts to become the 30th member of the North Atlantic Alliance. Croatia and Albania joined the alliance in 2009; Montenegro became a member last year. The process of NATO expansion in the Balkans seems to be unstoppable now that Macedonia is rushing to jump on the NATO bandwagon as well.
"I expect for Macedonia to finally join NATO at the upcoming summit of the alliance," reads the statement made by Macedonia's President Gjorge Ivanov on Jan. 1, 2018. He also expects to finalize a date for EU accession talks – another issue being discussed with Brussels.
A NATO summit is scheduled to take place July 11-12, 2018. The alliance's foreign ministers will decide by April 2018 which candidates have made enough progress to begin the procedures for bringing them on board. Macedonia was given its Membership Action Plan (MAP) in 1999.
The Former Yugoslav Republic of Macedonia (FYROM) is negotiating with Greece to solve a name dispute, which is holding back its NATO membership efforts. Athens claims Macedonia has no right to the name, which has its historical roots in Greece. A region of northern Greece is also called Macedonia. Delegations from the two states met with UN mediator Matthew Nimetz in New York on Jan. 17 to resume talks over Macedonia's official name. Optimism is in the air about the outcome of the US-sponsored diplomatic effort. A provisional name might be one option. According to a survey held in Macedonia last May, 71% of respondents voiced their support for NATO.
Otto von Bismarck, the legendary chancellor of Germany, dismissed the Balkan region as "not worth the bones of a single Pomeranian grenadier." The US sees things differently. Last April, Senator John McCain, chairman of the Senate Armed Services Committee, called for a far more robust US commitment to the region. Kay Bailey Hutchison, the US Permanent Representative to NATO, believes that the country is fully up to NATO's standards and is very close to membership even though the Balkan nation struggles with rampant corruption and lingering ethnic tensions.
The eight-thousand-strong Macedonian military has a long way to go to meet anyone's standards. The country has no navy or air force to contribute to the alliance. NATO will have to shoulder the burden of bringing the Macedonian military up to its requirements….https://www.strategic-culture.org/news/2018/01/19/macedonia-rushing-headlong-into-nato-membership-cons-evident-what-about-pros.html
f
How the Establishment Undermines American Democracy
There is a growing consensus among many observers in Washington that the national security agencies have become completely politicized over the past seventeen years and are now pursuing selfish agendas that actually endanger what remains of American democracy. Up until recently it has been habitual to refer to such activity as the Deep State, which is perhaps equivalent to the Establishment in that it includes financial services, the media, major foundations and constituencies, as well as lobbying groups, but we are now witnessing an evolutionary process in which the national security regime is exercising power independently.
In a devastating critique former Central Intelligence Agency operations officer John Kiriakou has described how the Democratic Party, as part of its frenzied effort to bring down President Donald Trump, has embraced a whole group of former intelligence and law enforcement officers who appear to be on the same side in seeking a more responsible and accountable executive branch but who are in reality pursuing their own agenda.
……….
https://www.strategic-culture.org/news/2018/01/18/how-establishment-undermines-american-democracy.html