Ganz offizielle Vertuschung der totalen Inkompetenz, Korruption der EU Justiz Missionen, welche selbst extrem korrupt sind, wie die gekauften EU Delegationen, von Hirnlosen. Eine Art Wettlauf, wer korrupter ist.
Das System ist überall identisch: Die Deutsche Mafia Justiz Stiftung IRZ-Stiftung in Serbien – Nichts funktioniert mehr
Wolfgang Hetzer: Zu den EU – Beamten, der EU Commission und Deutschen – und EU Politikern: aus Polizei News Letters: Wolfgang Hetzer
In solchen Kreisen, wenn Verantwortungslosigkeit Kultstatus genießt, warnt der EU– Korruptionsbekämpfer(Zitate nach "Kontext"), "geht es nicht mehr darum, was du verdienst, sondern darum, was du dir holen kannst, und wie du am einfachsten reich
wirst". Und das sei soziales Dynamit. Hetzer spricht ausdrücklich von einer sogenannten Finanzkrise, von einer "Systemkriminalität" und von "Systemkorruption".
Die Ober Idioten loben sich wieder mal selbst! Null Kompetenz, wollen Funktion in die Justiz in Albanien bringen, decken die Inkompetenz: der EU Justiz Mission EURALIUS und in den peinlichen Hirnmüll von der International Monitoring Operation (ONM), mit Genoveva Ruiz Calavera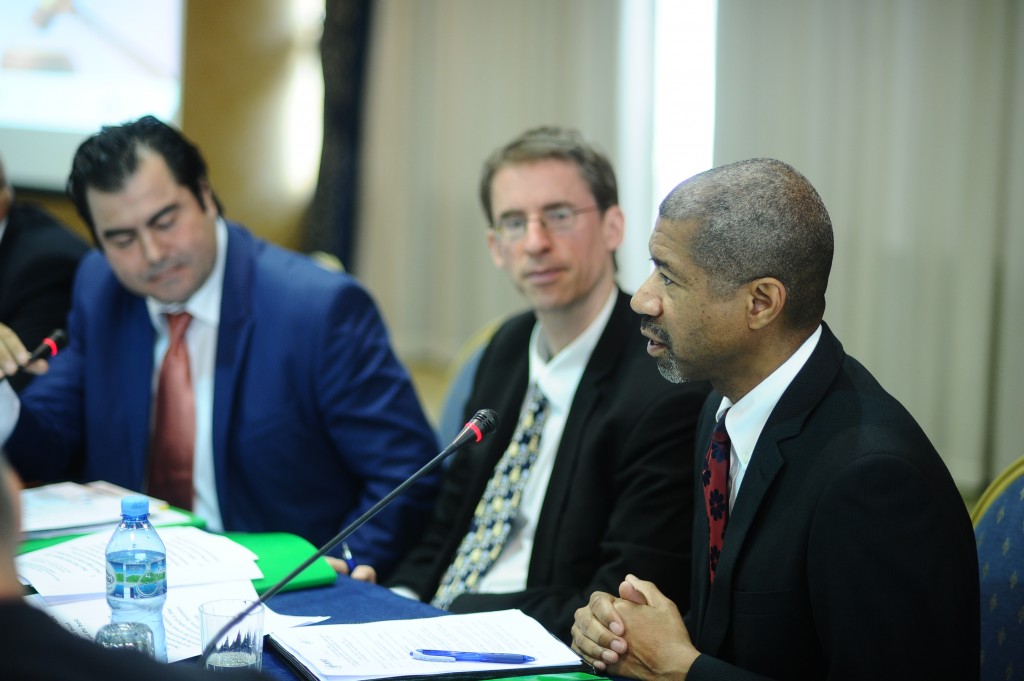 Gerti Shalla, Jan Rudolph, Marcus Johnson (USAID), welche als Verbrecher Organisation auftrat, über den AAEF Fund, wohl 1 Milliarde stahl, Geldwäsche Banken eröffnete, für Drogen Geschäfte und Landdiebstahl mit gefälschten Urkunden.
Es gibt bis heute nach 25 Jahren in Albanien, kein Gesetz was je implementiert wurde, nur gewaltige aufgeblasene Kader üben sich in der Geldvenichtung, schlimmer wie die Original "Nghradeta". Die EU ist vollkommen korrupt, wie die 2,9 Milliarden € Bestechungsgeld der Aserbeischandischen Mafia zeigt, welche in EU Kanäle flossen. The Azerbaijani Laundromat. Vollkommen absurde EU Politik ist inzwischen, das A) Aserbeischand, nicht genügend Gas hat für diese Pipeline, B) die TANAP Pipeline quer durch die Türkei nicht finanziert wird, C) Gazprom, sich bereits Anteile an der Pipeline gekauft hat D) ohne Ausschreibung prominente Mafia Baufirmen die Aufträge erhielten, Siemens 6 Turbinen nur in Griechland liefert E) prominente Firma aus Norwegen, Italien wegen diesem MIlliarden schweren Betrug ausstiegen, ihre Anteile verkauften.

Die Beerdigung der angeblichen "Werte" der EU.
Kaum zuglauben, wie diese Banden sich selbst bedienen, dann Justiz im Balkan verkauften wollen, wenn man mit Mafia Baufirmen aus Sizilien, Albanien, Griechenland, ohne Ausschreibung, alles finanziert, vor allem die Umwelt Vernichtung der Naturschutz National Parks überall.
European Human Rights Body suspected of bribery by Azerbaijan
Generalsekretär des Europarates: fordert unabhängige Ermittlungen in das Mafia Projekt der TAP Pipeline auch gegen die EU-Commission
Bis heute weigern sich diese angeblichen Justizbringer Missionen, den Verbleib von Milliarden zuklären, wobei die  International Monitoring Operation (ONM), mit Genoveva Ruiz Calavera, jeden Skandal vertuscht, keinen Verbleib der Gelder klären will, einé Art Hofschranzen Imperium errichtet mit Kriminellen, wo Nichts funktioniert. Neue Artikel auch in England, bestätigen das selbse System der absoluten Inkompetenz. Alle machen mit, möglichst viel Geld zustehlen, im "Camorra" identischen System der EU, wo Milliarden verschwinden, man nur mit sich selbst beschäftigt ist, und immer dabei der identische Unfug: die Deutsche IRZ-Stiftung, der Auftreten im Balkan und in der Welt, die sofortige Vernichtung der Justiz mit Kriminellen Politik Banden zur Folge hat.
HRW zur EULEX Mission: Kosovo Justiz ist von der Mafia kontrolliert und existiert nicht
EULEX: Europäischer Rechnungshof Vernichtendes Urteil über EU-Mission im Kosovo
vor 5 Jahren:
Die EU – EULEX Mission: Welt Rekord an Inkompetenz und Geld Vernichtung
Der EULEX, wurden 11 Dossiers über 3 Milliarden € zugeteilt, um den Verbleib der Gelder im Kosovo und die Unterschlagung zuuntersuchen. Kein einziges Dossier konnte erledigt werden

. Schon der Italienische General Fabio Mini, wies auf die Unfugs Mission EULEX hin. Die Italienische Zeitung La Repulica, über European Investigative Journalism Fund deckt nun diesen Skandal auf.

vor 2012: Der EU – Kommissar Olli Rehn, versprach den Fakten und den Vorwürfen der Betrugs Kommission OLAF nachzugehen.

Dann beendete der EU Kommissar Olli Rehn, ohne überhaupt etwas gemacht zuhaben, was ein Licht auf hoch dotierte Apparate und Personen der EU wirft. EULEX Staatsanwälte waren derart Geistig behindert und inkompetent, das Sie nicht einmal nach einem Jahr Amts Tätigkeit die kritischen Fälle der Unterschlagung kannten, wo hohe Geldsummen verschwanden. Kommentar: diese Leute verdienen 20.000 € pro Monat aufwärts und Steuerfrei?

Die Untersuchung und "wurde unterstützt von der Europäischen Fonds für investigativen Journalismus ein , eine renommierte Journalismus Stiftung mit Sitz in Brüssel, die dieses Forschungsarbeit über das Kosovo finanziert
von korrupten EU und US Politikern ruiniert: Kosova -Parlament will Untersuchung gegen die EU- Mission EULEX