Die Amerikaner besorgten sich seit 25 Jahren Chinesische Waffen in Albanien, welche ebenso in Ruanda auftauchten, oder die Betrugs Munition, rund um den AEY Skandal und die Gerdec Kathastrophe. Hoch kriminell, schuetzt die Bundeswehr Marine die Waffenlieferungen an Terroristen vor der Libanesischen Kueste. Ueber die Saudis wurde viel geliefert, Alles bekannt. Waffen, Betrug, Bestechung und unter neuen Firmen Name: Die Pentagon Betrugs Connection mit dem Schweizer Henri Thomet erneut.
Türkische Waffen, CIA-Terroristen immer mit Yassin Kadi und Hasan Cengic. In Bosnien vor 20 Jahren und heute mit Erdogan in Syrien
Rumänien, Bulgarien lieferten für Milliarden Waffen an die Syrischen Terroristen im Auftrage des CIA
Pentagon liefert syrischer Opposition sowjetische Waffen für Milliarden Dollar
Die USA haben seit September 2015 sowjetische Waffen und Munition aus Osteuropa nach Syrien geliefert. Das geht aus gemeinsamen Recherchen der Journalistennetzwerke OCCRP (Organized Crime and Corruption Reporting Projekt) und BIRN (Balkan Investigative Reporting Network) hervor. Die Lieferungen ergeben einen Wert von ungefähr 2,2 Milliarden Dollar.
© Foto: Pixabay
Kämpfer der syrischen Opposition werden dem Bericht nach weiter mit Waffen versorgt. Das geschehe, nachdem ein CIA-Programm zur Unterstützung von Gegnern von Präsident Baschar al-Assad eingestellt wurde. Laut den Recherchen begannen die massenhaften Waffenankäufe im September 2015. Bis Mai 2017 habe Pentagon über 700 Millionen Dollar für Kalaschnikows, Panzerbüchsen, Minenwerfer und andere Waffen ausgegeben.Bis 2022 sollen den Informationen nach noch über 900 Millionen Dollar ausgegeben werden, weitere 600 Millionen habe die Administration des US-Präsidenten Donald Trump beantragt. Insgesamt wolle Pentagon für die Ausrüstung seiner "syrischen Verbündeten" bis 2,2 Milliarden Dollar ausgeben.
Revealed: The Pentagon Is Spending Up To $2.2 Billion on Soviet-Style Arms for Syrian Rebels
The Pentagon has relied on an army of contractors and sub-contractors – from blue-chip military giants to firms linked to organized crime – to supply up to US$ 2.2 billion worth of Soviet-style arms and ammunition to Syrian rebels fighting a sprawling war against the Islamic State (ISIS).
Arms factories across the Balkans and Eastern Europe – already working at capacity to supply the Syrian war – are unable to meet the demand. In response, the US Department of Defense (DoD) has turned to new suppliers like Kazakhstan, Georgia, and Ukraine for additional munitions while relaxing standards on the material it's willing to accept, according to an investigation by the Balkan Investigative Reporting Network (BIRN) and the Organized Crime and Corruption Reporting Project (OCCRP).
Reporters have pieced together the Pentagon's complex supply line to Syria using procurement records, ship-tracking data, official reports, leaked emails, and interviews with insiders. This program is separate from a now-defunct CIA effort to arm rebels fighting Syrian President Bashar Al-Assad.
The Pentagon is buying the arms through two channels: the Special Operations Command (SOCOM), which oversees special operations across all services of the US military, and the Picatinny Arsenal, a little-known US Army weapons facility in New Jersey.
The munitions are being transported by both sea and air from Europe to Turkey, Jordan and Kuwait. They are then distributed to US allies in northern and southern Syria by plane and truck. (See: Black Sea Route)
Reporters discovered that the US is using vaguely worded legal documents which obscure Syria as the weapons' final destination – a practice experts say threatens global efforts to combat arms trafficking and puts the Eastern European governments who sell the weapons and ammunition at risk of breaching international law. Others raise the issue of who, exactly, is using the arms and what will happen to them once ISIS has been defeated.
The Pentagon started the major buy-up in September 2015 under President Obama. By May this year, it had already spent more than $700 million on AK-47s, rocket-propelled grenade (RPG) launchers, mortars, and other weapons and ammunition.
More than $900 million has been contracted to be spent by 2022, and nearly $600 million more has been budgeted or requested by the Trump administration. This brings the grand total of the Pentagon's intended spending on its Syrian allies to $2.2 billion.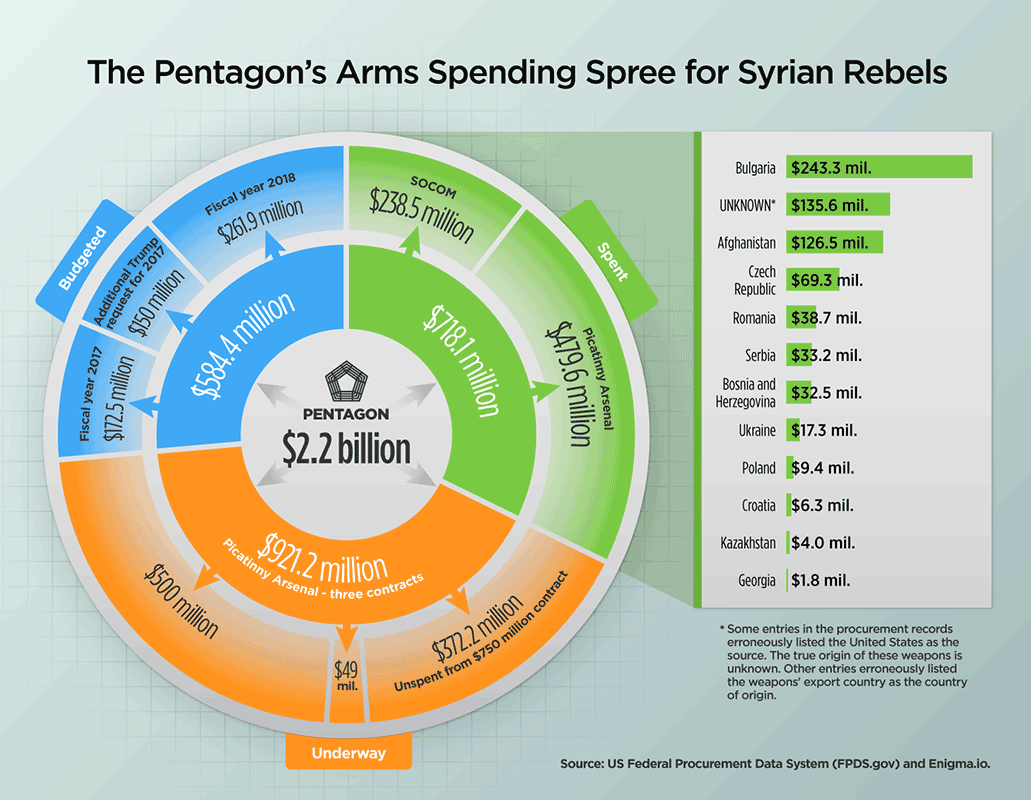 This US-financed supply line is similar to a Saudi-backed €1.2 billion arms pipeline to Syria uncovered last year by BIRN and OCCRP.
Asked about the unprecedented purchase of Soviet-style arms for Syrian rebels, the Pentagon said that it had carefully vetted the recipients, adding that the equipment was provided "incrementally" and is the "minimum needed for the immediate mission."
Syria Train and Equip: A Major Shift in Strategy
As ISIS swept across Syria in 2014, the Pentagon hastily launched a $500 million Syria Train and Equip program to build up a new force of rebels, armed with modern US weapons, in an attempt to counter the threat. SOCOM – the elite unit responsible for killing Osama Bin Laden – was tasked with buying the arms.
But nine months later, the program had collapsed, with only a few dozen recruits having made it onto the battlefield.
Amid a flurry of negative headlines, the Pentagon needed a new plan. Starting in September 2015, the US would focus not on building a new anti-ISIS army, but on arming rebels already on the ground.
While the Pentagon did not reveal the details of its new plan, a previously unreported spending request from February 2016 made clear that it would stop training new units and supplying them with modern weapons. Instead, it would select "vetted" opposition forces already on the ground and send them Soviet-style weapons and ammunition they were already using and familiar with.
The first delivery, which included 50 tons of ammunition and rocket-propelled grenades, arrived in October 2015, just a month after the shift in policy. The munitions were airdropped to the Kurdish-dominated coalition within the Syrian Democratic Forces currently spearheading the fight to reclaim Raqqa……
https://www.occrp.org/en/makingakilling/the-pentagon-is-spending-2-billion-on-soviet-style-arms-for-syrian-rebels