The impact of the expected floods in Albania is expected to extend to 85,500 buildings with an area of 7,900 square kilometers and 565,000 people.These figures have been issued by the National Water Council, which has analyzed floods, a phenomenon which is a real problem in our country for the period November to March.
According to this council, the majority of floods occur alongside the water basins of rivers Buna, Drin, Vjosa and Seman, affecting 24,000 buildings and 840,000 people.
Furthermore, the National Water Council says that the growth of the level of sea waters in coasts is expected to be from 1 to 2 cm until 2025 and 3 to 15 cm until 2050, causing floods in areas below sea levels.
Floods may also have a partial impact in beaches such as Durres, Golem, Divjaka, Himara and Borsh.
The analysis also shows that the most critical areas where the land has been seriously damaged are Shkodra, Tropoja, Saranda and Gjirokastra. /balkaneu.com/
Around 900 fires broke out this summer in Albania
Civil Emergencies have considered the situation that was registered in Albania during the summer months with the fires that broke out in many areas of the country as unprecedented.So, in a special report, this institution said that nationwide, there were around 900 fires mainly caused by extreme temperatures and long droughts.
"Over 900 fires have been registered, from the smallest ones to the most massive ones. 500 of these fires have been managed by domestic structures of the firefighter services. Over 280 fires were a real threat for human life, properties and environment, requiring the support of central government operational structures", said Shemsi Premci, head of Civil Emergencies.
Meanwhile, 8 fires were registered on Monday in the districts of Shkodra, Lezha, Fier, Dibra, Elbasan, Vlora and Korca.
Based on this situation, besides boosting mechanical and human capacities, Civil Emergencies have also demanded for the Albanian fire fighters service to be transformed like their counterpart services in Europe. /balkaneu.com/
It's true that Albania has very beautiful beaches, but it also has the most polluted ones. It can be said that the country has some of the most polluted beaches in Europe. This was concluded by the European Environment Agency (EEA), which has monitored 21,667 beaches in Europe, 21,344 of which are part of the EU member countries and the rest are part of candidate countries.In this ranking, Albania is among the last in terms of the cleanliness of beaches with only 35% of waters having an excellent quality, 20% having a good quality and 5% having adequate quality.
EEA has monitored 92% of Albania's beaches and the samples taken from them have revealed that 56 of them have adequate quality, while 18 of them do not have a satisfying quality. /balkaneu.com/
Albanien's Tourismus: Golem und Ksmali – man lernt Nichts aus früheren Fehlern und übt nur Vettern Wirtschaft und Idiotie
Durres: keine Vorbereitungen für die Tourismus Saison, denn man muss die KfW, EU und Weltbank Gelder unter sich schnell verbauen


Die neuen gebrochenen Abwasserleitungen für Kriminelle bei den Ksmali Inseln, vollkommen illegal, auch nach EU Recht, ohne Einbindung der Stadt Sarande, weil man gegen diese Wasserleitung ist, für illegale Bauten der Albaner Mafia. Immer dabei, die Deutsche KfW, auch das Mafia Transport Ministerium, mit 100 % BEtrug und manipulierten Ausschreibungen
"Elite Tourismus": Tuberkolose Fälle in Durres und die Bürger beschweren sich, über den Abwässer Gestank der See Promenade
Motor des Verbrechens sind direkt Albanische Politiker und Adminstrative, wo komplette Institutuionen von kriminellen Clans übernommen wurde, vor über 15 Jahren in der Ilir Meta Regierung bereits. Typische Deutsche Betrugs Projekte, wo heute die schlimmste Wasser Verseuchung ist, extrem kriminellen Banden und Europas Verbrecher Hochburg: Golem – Kavaje

Die Weltbank, KfW, Deutsche Enwicklungs Hilfe spielt eine Schlüsselrolle, für die Zerstörung der Küsten, von "Golem", was schon in 2000 begann, mit den verrücktesten Wasser und Infrastruktur Projekten u.a. mit dem PPP Betrug von Berlinwasser, einem kriminellen Enterprise der Deutschen Privatisierung und von RWE und Politik Gangstern. Heute sind es die Pseudo Deutschen Firmen PWT-Consult, Bean Gruppe der Weltbank und das Mafia Construct des IFC, EBRD Bank, EU Botschaft.
Einziges Tourismus Programm in Albanien: Geldwäsche und die Pflege der Abwässer verseuchten Strände, denn mit dem Zustand wird man reich, wenn immer neue Gelder in angebliche Infrastruktur Projekte der EU und Weltbank gepumpt werden, welche dann spurlos verschwinden.
Vangjush Dako – Edi Rama: von Skandal zu Skandal: Durres Grundstücks heute und die Skandale 2004
en: 39,7 % gefährlich verschmutzt
EU Umwelt Behörde 2016

EEA Report No 9/2016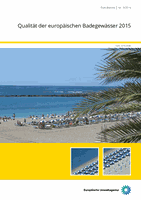 Jeden Sommer füllen sich die Urlaubsorte in Europa mit Touristen, die sehnsüchtig Sonne tanken und die schönen natürlichen Umgebungen dieses vielseitigen Kontinents genießen möchten. Für viele steht der Begriff "Sommerurlaub" für das Schwimmen im Meer oder in einem See; logischerweise ist die Wasserqualität daher ein wichtiger Faktor bei der Wahl des Urlaubsziels. Um den Bürgern die informierte Entscheidung zu erleichtern, veröffentlichen die Europäische Umweltagentur (EUA) und die Europäische Kommission den jährlichen Bericht über die Qualität der Badegewässer in Europa. Der Bericht bewertet die Badegewässerqualität des Jahres 2015 in den EU-Mitgliedstaaten sowie in Albanien und der Schweiz und gibt somit Hinweise darauf, wo die Badegewässer auch 2016 wahrscheinlich eine gute Qualität aufweisen.
Inhalt
According to Saranda News Capital, the raw sewerage was then redirected for two weeks to the Bistrica river.Construction of several residential and commercial buildings, bridges roads etc. in Albania and Kosovo; Bechtel Betrugs Skandal,
Later in July, a pipe broke in Ksamil, covering the streets and seaside of the tourist town in raw sewerage. Again the Municipality of Saranda tried to blame others for this incident, and the EU Delegation in Tirana later released a statement that the project had been accepted by the Municipality in the spring.
Only a week ago, inhabitants of Saranda complained that they remained for days without drinking water at the height of the tourist season.
Construction of several residential and commercial buildings, bridges roads etc. in Albania and Kosovo; Bechtel Betrugs Skandal,
Am 6.5.2017 mit dem Transport Minister Sokol Dervishi, einem uralt Verbrecher, mit 100 % gefakten Ausschreibungen, wie die Staatsaufsicht feststellte und fiktiven Projekten, war die Einweihung. Mit dabei die Deutsche Botschafterin Susanne Schütz, wo u.a. die Kanal Arbeiten, für neue Abwasser Rohre vor dem Hotel Butrint nie existierten, wie in anderen Modellen wie in Korce, welche nun platzten, als stärkere Pumpen die Rohre zum bersten brachte. Die kriminellen Banden vor Ort, haben ganz einfach die Unerfahrenheit der Botschafterin ausgenutzt, was ja nicht das Erste Mal ist.