Wie in Deutschland die SPD Kriminellen vor allem, in Italien nennt man es "Camorra" – "Nghradeta" und Co, Hamburger Senat, Migrations Beauftrage, oder Migranten NGO, wie SEAWatch, Alles Steuer finanziert. Deutsche Mafia NGO mit eigenen Booten ist ebenso sehr aktiv, teilweise mit Steuergeldern. SPD Politiker aktiv dabei mit Fake Migranten NGO's, Posten in der SPD, INstitutionen, und eigenen Flüchtlingsheimen. Lügen Deutscher Minister, kein Problem als System Kriminelle für Kriege, Waffen Geschäfte und Auslands Bestechung.
Von Martin Schulz, bis Manfred Weber: Phantom Büros, Spesen EU konform
Georg Soros bezahlt und gesponsert, in hoch kriminellen Construct der EU und NGO Politik, verdient man bei dem Klima Betrug, Co2 Zertifikaten mit den Betrugs Banken und an jedem Krieg. Alle ist käuflich!
Hundreds of members of the European Parliament are potentially misusing EU funds meant to pay for offices in their home country, but at least 249 of these offices either do not exist or are nowhere to be found.
Each month MEPs are given a tax-free lump sum of €4,342, called the General Expenditure Allowance (GEA). The fund costs the EU around €40 million annually and is meant to provide MEPs with national offices that, among other things, should keep them in touch with citizens.
Profite ohne Ende der SPD Schleuser- Drogen Mafia: von Ralf Jäger, Martin Schulz bis Steinmeier, wo Kinder- und Frauen Handel Null Problem ist

Migranten Schmuggel: eine Partnerschaft zwischen der Italienischen, Albaner, Griechischen und Kroatischen Mafia ist aktiv
Neben Berlin u.a. diese Profi Verbrecher Organisation aus Regensburg, praktisch ein Familien Betrieb, im Schleuser Geschäft:Steuer finanziert

Italien: Mafia kontrollierte Flüchtlingsheim und scheffelte Millionen
17.05.2017 • 09:22 Uhr
In Italien hat die Polizei beinahe 70 Mafia-Mitglieder verhaftet. Sie hatten eine der größten Flüchtlingsunterkünfte im Land infiltriert und sollen dadurch über 30 Millionen Euro eingenommen haben. Geführt wurde die Einrichtung von einem Priester, der ebenfalls an den Verbrechen beteiligt war.
Laut Staatsanwaltschaft wurden die Flüchtlinge teilweise mit Schweinefutter versorgt.
Die Ndrangheta gehört zu den weltweit mächtigsten Mafia-Familien. Sie kontrolliert auch den europäischen Kokainhandel. In Italien ist die Mafia sogar politisch erfolgreich und infiltriert die Verwaltungen großer Städte wie Rom und Turin.
Andreas Geisel (SPD), wie der Vorgänger Michael Müller (SPD) und Innensenator in Berlin, wo das LKA, Überwachungen vortäuschte, welche es nie gab, obwohl Gross Drogen Handel, Banden Schlägereien rund um AMRI aufgezeichnet wurde.
Erinnert an den Osmani Clan in Hamburg, mit eigenen Flüchtlingsheimen in Hamburg, wo auf Abruf in Durres vor über 20 Jahren schon die Asylanten Schlange standen und in den Drogen Verbrecher Syndikaten mit besten Verbindungen in den Innensenat bis heute, ihr Geld abarbeiten mussten. siehe Ralf Jäger und NRW und der peinliche Heiko Maas, (SPD)! Die Top Verbrecher Clans, haben immer ihre Deutschen Politik Partner in der SPD, was bei Aydan Özoğuz ebenso deutlich wird. In Berlin, NRW wurden die Arabisch, Kurdischen Verbrecher Clans Straffrei gestellt, wie die Roma Banden.
UN: Sutherland / Goldman Sachs beim Umvolkungs Programm im Auftrage von Verbrecher Clans
Details

Written by Matteo Civillini (Investigative Reporting Project Italy)
Italian authorities said Monday they arrested 68 suspected members of a 'Ndrangheta mafia group that stole food from migrants at Italy's largest reception center, siphoning off over 30 million euros in state funds.
A Reception Centre for Asylum Seekers in Crotone (Photo: Revol Web CC BY-SA 2.0)The suspects are linked to the Calabria-based Arena clan – a family that has allegedly controlled for more than a decade the Sant'Anna Cara immigrant center at Isola di Capo Rizzuto, which can house up to 1,300 people.
Investigators claim the group operated with the help of Leonardo Sacco, the director of the center and regional head of the Roman Catholic Misericordia association, and Edoardo Scordio, a local priest – both among the arrested.
According to the indictment seen by IRPI, Sacco enabled catering companies linked to the crime group acquired lucrative contracts to provide meals to the migrants.
Those companies allegedly inflated the costs and the extra money was split between the Arena affiliates, Sacco and Scordio, according to a police informant quoted in the indictment.
Since 2006 the Italian Ministry of Interior funded the center with over €100 million – 32 of which allegedly ended up in the clan's coffers.
"In some cases only 250 meals were delivered for 500 people. So, half of them would have to go hungry and eat the following day," Antimafia prosecutor Nicola Gratteri said Monday
"But, it was not just low quantities, they also served food only good for pigs. These people have been getting rich at the expenses of migrants," he added.
The suspects were charged with mafia-type association, extortion, fraud, arms dealing and other crimes.
Apart from stealing from migrants, the group also enjoyed a near-monopoly over gambling activities in the area and allegedly trafficked stolen archaeological artifacts.
Italy's financial police documented how the Arena crime group marketed the betting websites of Centurionbet, a Maltese gambling company.
Francesco Martiradonna, described by investigators as the "de-facto owner of Centurionbet", was alleged to have provided a concrete contribution to the "strengthening of the 'Ndrangheta group's commercial position".
In October 2016 an investigation by IRPI revealed how the Martiradonna family – with ties to the Sacra Corona Unita crime syndicate, another group that operates in the area of the southern city of Puglia – had dodged the seizure of gambling site Bet1128 by moving its operations to Malta. Francesco Martiradonna wasamong the arrested on Monday on a charge of external support to a mafia-type association.
The indictment also describes how precious coins, rings and tools from Greek and Roman times were dug up across Calabria by alleged mafia affiliates and either handed over to the bosses of the Arena family or directly trafficked on the underground market.
"The goods were sold on the black market thanks to the intermediation of well-known experts in the sector," said Nicola Lelario, chief of police in Crotone during today's press conference.
von Soeren Kern  •  1. Juni 2017
Vor Gericht kam zur Sprache, wie Amer K. die Mutter seiner drei Kinder mehr als 20-mal mit einem langen Küchenmesser in die Brust und den Hals gestochen hatte, weil er glaubte, sie wolle sich von ihm scheiden lassen.
"Dann holt er das Messer und sticht auf sie ein. Die … Klinge dringt in ihre Brust ein, öffnet den Herzbeutel, touchiert den Herzmuskel. Ein zweiter Stich öffnet die linke Bauchhöhle. Dann holt Nurettin B. die Axt. Mit der stumpfen Seite schlägt er auf Kopf und Oberkörper ein, der Schädel bricht. Dann holt er das Seil. Mit dem einen Ende knüpft er einen Galgenknoten um ihren Hals, das andere bindet er an [sein Auto]. Mit 80 Stundenkilometern rast er durch die Straßen [bis sich] das Seil [löst]", rekonstruiert Staatsanwältin Ann-Kristin Fröhlich.
In

Ahaus

ersticht ein 27-jähriger nigerianischer Asylbewerber eine 22-Jährige, nachdem diese offenbar seine Ehre verletzt hatte, indem sie seine romantischen Avancen zurückwies.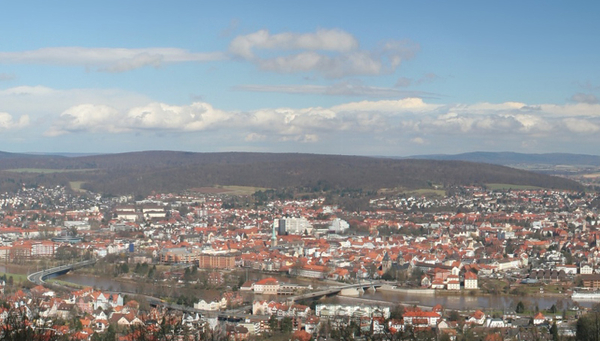 Das malerische
Hameln
wurde Schauplatz eines scheußlichen Ehrenverbrechens, als der in der Türkei geborene Kurde Nurettin B. versuchte, eine seiner drei Ehefrauen zu ermorden. (Foto: Martin Möller/Wikimedia Commons)
Der Prozess gegen einen Kurden, der eine seiner drei Ehefrauen an die Stoßstange eines Autos gebunden und durch die Straßen Hamelns geschleift hat, hat die Aufmerksamkeit auf eine Welle muslimischer Ehrengewalt in Deutschland gelenkt.
Ehrengewalt – die von emotionalem Missbrauch über physische und sexuelle Gewalt bis hin zu Mord reicht – wird in der Regel von männlichen Familienmitgliedern gegen weibliche Familienmitglieder verübt, von denen angenommen wird, dass sie Schande über die Familie oder den Clan gebracht hätten.
Artikel weiterlesen

Sozialhilfe für Verbrecher Clans