Verantwortlich bei der Weltbank: Jane Amitrage, Ehefrau von Richard Amitrage, dem Welt Drogen Gangster im Langzeit Turn des  CIA und Haupt Figur auch in der Iran Contra Affärre rund um Waffen- Geldwäsche und Drogen Geschäfte..
Weltbank-Insider packt aus über Korruption und die Federal Reserve
Alex Newman
22. Mai 2013 (Übersetzung von we-are-change.de, vielen Dank dafür)
http://www.politaia.org/finanzterror/karen-hudes-korruption-im-weltfinanzsystem/
Voll Time Super Idiot: Robert Kagan, Ober Hühner Falke des Krieges.
Deutschland finanziert und ist Partner im Verbrecher Spektakel, über das Georg C. Marshall Centrum in Garmisch Parten Kirchen.
, wo man Kriminelle Weltweit anheuert, für Sabotage Aktionen, Drogen Schmuggel und Betrug ohne Ende. Secret Operation = George C. Marshall Center.
Ehefrau Victory Nuland der Hirnlosen Deppen Familie, weiß ebenso nie was sie tut.
World Bank Insider Blows Whistle on Corruption, Federal Reserve By Alex Newman, May 26, 2013
Comedy Show of Incompetenz: IMF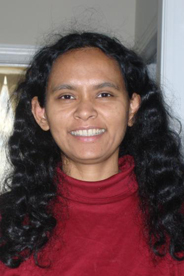 Jesmin Rahman (PhD '98)
Why did you join the PhD in Economics Program at AU?
I completed by BA in economics and political science at Smith College, with a regional concentration on the Middle East. I was looking for graduate programs in international business and economics that had a multidisciplinary twist. I was also looking forward to being in a big city where there were lots of internship opportunities to get hands-on training in development/international economics. While AU was perhaps not my first choice, its location and the generous financial aid eased my decision.
Could you tell us about some of your experiences while at AU?
I particularly enjoyed the opportunity to teach classes. Graduate students at AU have the possibility to teach not just introductory micro and macro economics, but also specialty courses. In my case, this was the course on History of Economic Thought. I immensely enjoyed that teaching experience. It provided with a burst of fresh air in my otherwise conventional graduate student's life. I also had some flexibility in designing the course material (for example, I introduced my students to the economic thought of 13th-century Arab philosopher Ibn Khaldun). I am grateful to professor John Wisman for the seminars he organized to help students become effective teachers. I was surprised at how long it took me to settle on a dissertation topic. My initial interest was in researching child labor. Unfortunately, I was not able to narrow my interest down to a "researchable" topic. So I listened to the informal wisdom regarding dissertation work: there are essentially two kinds of dissertations, those that are completed and those that are not. I was grateful when Professor Feinberg suggested that I continue work on exchange rate pass-through, an area where I had done some research for him previously. Later, this topic proved to be very helpful in my job search.
How did your career evolve after completing your PhD at AU?……..
http://www.american.edu/cas/economics/alumni-rahman.cfm
New evidence indicates that Oleg Deripaska, the Russian billionaire who paid $10 million a year to Paul Manafort between 2004 and 2009, has been in business since 2004 in Guyana with a politically powerful crime family involved in international drug trafficking whose most famous member is a drug pilot who had also been the chief pilot of the owner of the flight school in Venice Florida that taught Mohamed Atta to fly.
Posted in

News, Uncategorized
Tagged

9.11, drug cartel, election probe, Guyana, heroin, Michael Brassington, Oleg Deripaska, Paul Manafort, Russian oligarch, Wally Hilliard
3 Comments
Publishing a story called "Oleg & Me" the day after the "Oleg" in question runs a half-page ad in the New York Times ad offering to sue the Associated Press is probably a little foolhardy for someone who's not even—you know—associated. But it has to be done.
Posted in

News, Uncategorized
Tagged

43 LBS., election, Guyana, heroin, Michael Brassington, N351WB, Oleg Deripaska, Paul Manafort, Russia, Russian oligarch, Ukraine
Leave a comment