Versicherungen sind ein Geldwäsche Modell der Balkan Mafia: Partner auch der Deutschen AXA Versicherungs Gruppe, was auf ein Betrugs Konzept hindeutet, denn wer macht Partnerschaft Verträge, wenn der Partner eine eigene Versicherung hat, was Verträge in Deutschland ebenso mit höheren Angestellten ausschliesst.
Added on March 7, 2016 05:09 pm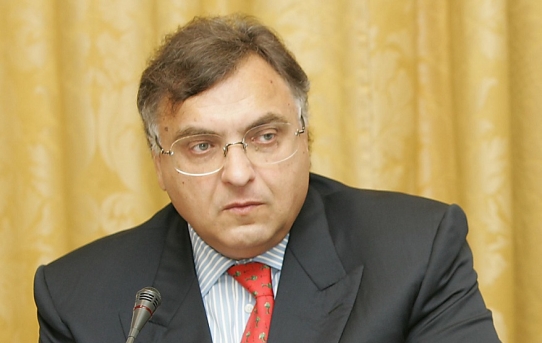 Dan Adamescu:
Romanian investor investigated for biggest bankruptcy in the insurance sector asked to pay EUR 9 mln bail
Romanian businessman Dan Adamescu, one of Romania's richest, is under investigation for the way he managed his insurance company, Astra Asigurari, which went bankrupt last year. The prosecutors consider Adamescu responsible for the EUR 180 million damages taken by Astra. He has to pay a RON 40 million (almost EUR 9 million) bail in ten days to stay out of jail during the investigation.
Romania's National Anticorruption Directorate (DNA) questioned Dan Adamescu for several hours on Monday, March 7, and informed him of the new charges. The DNA also investigated Adamescu a few years ago for bribing a judge. The file was sent to court in June 2014 and the Bucharest Court of Appeal sentenced Adamescu to 4 years and 4 months in jail, in February 2015. The decision is not final.
On March 7, 2016, the prosecutors officially charged Adamescu with abuse of office, money laundering, and complicity to abuse of office by public officials.
According to the prosecutors, between 2011 and 2013, Dan Adamescu made several bad decisions for Astra Asigurari, using the company's cash reserves for other purposes than its legal activity. He also covered his actions by issuing distorted reports that prevented the insurance sector's regulator to properly assess and supervise Astra's activity and to protect the company's clients. Due to his actions, Astra went under special administration in early-2014 and was declared bankrupt in 2015. The company took a RON 795 million (EUR 180 million) damage, according to DNA.
Some of Adamescu's bad decisions at Astra included lending RON 106 million (some EUR 24 million) to other companies in his group without properly assessing the credit risk of these companies. Adamescu used some EUR 15 million of the money Astra lent to his companies to buy 17% of Astra's shares, in 2011. The seller was Austrian group Uniqua. The company through which Adamescu bought the shares, Epsilon Estate Provider didn't meet the financial requirements to become a significant shareholder in Astra Asigurari, according to DNA.
Romanian Financial Surveillance Authority places country's largest insurer Astra under special administration
Owner of largest Romanian insurer: Regulator's decision to enforce special administration, 'shocking and irresponsible', we will appeal it in court
Romanian Car Workers Demonstrate for New Highway
Around 8,000 workers from Romania's car industry rallied in Pitesti, calling on the government to build a new highway as a measure to protect their jobs.