Praktisch die aelteste Terroristen Gruppe der Welt, ueber 20 Jahre auf der Internationalen Terroristen Liste, und nun erhalten diese Super Drogen, Mord, Schleuser Verbrecher Kartelle Albanische Paesse, damit man Europa weit reisen kann.
Nochmal 2.000 dieser Terroristen werden in Albanien stationiert, nachdem der Irak diese Banditen und Moerder los werden will.
Eingekauft, mit dem Bestechungsgeld von 20 Millionen Euro. Balkanblog.org berichtet in 2014 und zuvor ueber diese US Terroristen nachdem Modell der Verbrecherin Hillary Clinton und John Kerry, ist ebenso ein Kriegs Verbrecher, der in Vietnam wahllos Frauen und Kinder nieder metzelte, am Mekong Fluss, als er Patroille fuhr. Er musste damals nach Hause geschickt werden, weil diese Verbrechen die Moral der US Soldaten untergrub. Ein echtes Problem in Albanien was schon laenger bekannt ist.
Direkte Verbrecher Verbindungen in die Deutsche CDU, was normal ist. Man hat immer seine Deutschen Patrone im Verbrecher. Oft ist direkt die Frank Walter Steinmeier Bande, oder Elmar Brok und Martin Schulz aktiv dabei.
2015/07/16 by Iran Interlink
Iran-Zanan representatives meet Christian Democratic Union member
US Praises Albania for MEK Resettlement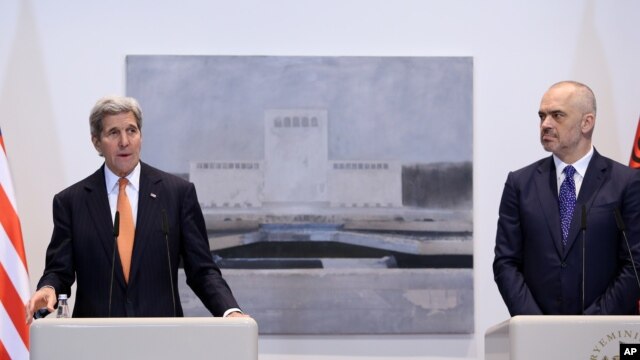 Secretary of State John Kerry, left, speaks at a news conference with Albanian Prime Minister Edi Rama in capital Tirana, Feb. 14, 2016.
– See more at: http://sot.com.al/#sthash.afSoSX0x.dpuf
Last updated on: February 14, 2016 7:00 AM
TIRANA, ALBANIA—
U.S. Secretary of State John Kerry has used a visit to Albania to thank the government for resettling members of an Iranian opposition group known as the Mujahedin e Khalq, or MEK.
Over the past two years, Albania has taken in about 1,000 members of the MEK and has committed to resettling an additional 2,000, said a senior State Department official. Most lived in U.S.-backed camps in Iraq.
Ahead of Kerry's Sunday visit to Tirana, the official said Kerry would not talk publicly about the resettlement effort, which remains a sensitive issue.
The U.S. has assisted Albania in its efforts to resettle the MEK, a group that has supported the U.S. in military operations in the Middle East and in its fight against terrorism.
The U.S. assistance includes a donation of $20 million to the U.N. refugee agency to help resettle the MEK, said the State Department official. The U.S. has also provided Albania with security and economic development assistance, to help the country build up its physical capacity to house the refugees.
Support for Albania's justice reforms
Kerry's visit comes at a time when Albania is trying to adopt judicial reforms, as part of a wider effort to combat corruption. Kerry praised those efforts in his public remarks in Tirana
The country is considering legislation that would bring Albania's judicial sector more in line with U.S. and European norms. The measure would also create an entity similar to the U.S. Federal Bureau of Investigation.
The U.S. and European Union provided advice to help Albania draft the provision, which would create a special anti-corruption force.
"Your country is moving in the right direction," said Secretary Kerry during an appearance with Prime Minister Edi Rama.
Kerry added that he was "encouraged" by the judicial reform package under consideration.
"Without the support and advice of the United States, Albania would not have managed to make so much progress in its reforms, said Rama.
The judicial reforms could also benefit Albania in its bid for EU accession.
Kerry traveled to Albania from Germany, where he participated in the Munich Security Conference and an International Syria Support Group meeting.
He received a robust welcome in Albania, that included a column of U.S. and Albanian flags lining the streets along his main routes and onlookers who crowded street corners to catch a glimpse of his passing motorcade.
In addition to meeting with the country's prime and foreign ministers, he met with opposition leaders and civil society groups.
http://www.voanews.com/content/us-albania/3190311.html
2016/02/14 US official: Albanias need reforms for themselves, EU membership as well as dealing with Mojahedin Khalq (Rajavi cult)

Associated Press, Tirana, February 14 2016:… U.S. officials traveling with Kerry said that while the reforms are needed for their own sake as well as E.U. membership, they also were key to Albania's fulfilling a commitment to relocate thousands of members of the exiled Iranian Mujahedeen-e-Khalq opposition group. Saddam Hussein had welcomed the Iranian group into Iraq in the 1980s, but Iraq's current Shiite-led government considers their presence illegal. The

---

2016/02/13 20 People Move to Albania; New Revelations of Abuses inside Mojahedin Khalq (Rajavi cult, MKO, MEK

Nejat Society, February 13 2016:…  On Tuesday February 9th a group of 20 residents of TTL Camp in Iraq flied to Albania. This was the second group of MKO members who were relocated in Tirana, this year. Survivors of the MKO who left the group after they were resettled in Albania report that the MKO leaders use tricks to deceive HCR officials and to maintain their hegemony over the cult members. According to the Survivor's Website," Massoud Rajavi forced …

---
Sehr krtische Artikel in der heutigen Albaner Presse, ueber diese Gefahr fuer Europa und deutlich gegen die weitere Stationierung der CIA Terroristen Gruppen in Albanien.