Hintergründe des Verbrechers und Massenmörders William Walker der bis heute auf den Lobby Veranstaltungen der US-Albanischen Mafia auftaucht.
In den frühen achtziger Jahren wurde Walker stellvertretender Missionschef in Honduras als die CIA mit argentinischen Militärberatern eine Contra-Armee gegen das von Sandinisten regierte Nicaragua aufbaute. Offenkundig unterstützte Walker die Contras10 und war gemeinsam mit Oliver North und seinem Vorgesetzten Elliott Abrams tief in die Iran-Contra-Affäre verstrickt, wie aus dem offiziellen Untersuchungbericht vom August 1993 hervorgeht.11 Im US-Kongress setzte sich Walker vergeblich für die Lieferung von Kampfflugzeugen an Honduras ein.
Während Walker Botschafter in El Salvador war, tobte ein Bürgerkrieg zwischen Regierungstruppen und der linksgerichteten Nationalen Befreiungsfront Farabundo Marti (FMLN). Im Verlauf der Kämpfe kamen mehr als 70.000 Menschen ums Leben, der größte Teil ZivilistInnen, die von Regierungstruppen und paramilitärischen Todesschwadronen getötet wurden. Der Bericht der UNO-Wahrheitskommission kam 1993 zu dem Ergebnis, dass die Armee El Salvadors für umfangreiche Menschenrechtsverletzungen verantwortlich sei; eine große Zahl der Täter sei in der School of the Americas (SOA) in den USA ausgebildet worden.12
Der UNO-Bericht rückt William Walker und andere US-Diplomaten in ein schlechtes Licht. So wurde der mutmaßliche Drahtzieher der Ermordung von Erzbischof Romero im Jahr 1980, Roberto d'Aubuisson, von Walker wie auch Abrams in Schutz genommen, obwohl Belege für seine Mittäterschaft vorlagen. Während die CIA d`Aubuisson 1981 als "egozentrisch und rücksichtslos" beurteilte und die Washington Post ihn 1994 einen "gemeinen Killer" nennt, erkannte Walker noch 1989 in ihm einen "Demokraten" und einen der "besten Politiker" El Salvadors.(WP 21.3.93) Dass Verharmlosungen von US-Verbündeten in den achtziger Jahren die Regel waren, belegt auch das Massaker von El Mozote, wo im Dezember 1981 etwa 800-900 Männer, Frauen und Kinder abgeschlachtet wurden, nach Ansicht der UNO-Kommission durch das von den USA-trainierte Atlacatl-Battalion. Obwohl genügend Indizien vorlagen, stritt Abrams dies ab.
http://www.wissenschaft-und-frieden.de/seite.php?artikelID=1356
Alles Lüge, Betrug um einen NATO Krieg herbei zureden mit korrupten Deutschen Politikern die nur noch die peinlichsten Lügen, verbreiteten. Die OSCE finanzierte die UCK – KLA Banden, weil man Dolmetscher brauchte, ebenso die Bundeswehr im Kosovo Krieg, obwohl die Terroristen Banden praktisch zuvor aufgerieben war. Die OSCE als Lügen Gebäude, denn als die OSCE kam, gab es praktisch die UCK nicht mehr, erst als diese Gelder erneut an die UCK Leute gingen, obwohl ein Interpol Haft Befehl gegen Hashim Thaci auch als Drogen Schmuggler existierte, was plötzlich verschwand. Die Todesschwadronen der UCK gegen die Rugova UCK wurde damals geboren, der US Sonder Botschafter Robert Gelbard sprach deutliche Worte über diese Terroisten, die in 1998 noch auf der Internationalen Terroristen Liste standen. Die peinlichen Scharping Lügen, sind die Peinlichkeit im Lügen Gebäude der SPD, wo Ethnische Säuberungen wie bei Joschka Fischer zur normalen Kultur wurde.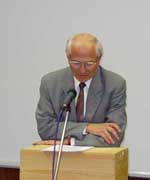 General a.D. Heinz Loquai
Ex-General Heinz Loquai über die Lügen zum Kosovo Krieg der Schröder-Fischer Regierung
22.06.00 | 21:00 Uhr
Enthüllungen eines Insiders – Scharpings Propaganda im Kosovo-Krieg
PATRICIA SCHLESINGER:
Guten Abend und willkommen zu einer neuen Ausgabe von PANORAMA.
Wer eine Wahl gewinnen will, muss Stärke beweisen. Ein amerikanischer Präsident erfindet einen Krieg, einen Angriff auf ein kleines Balkanland
…………..
0-Ton RUDOLF SCHARPING:
"Wir haben sehr gut recherchiert und uns Bildmaterial besorgt, das OSZE-Mitarbeiter am Morgen gemacht haben zwischen sieben und acht Uhr."
KOMMENTAR:
Fernsehbilder von genau diesem Morgen. Tatsächlich: ein OSZE-Mann, mit grüner Jacke, Henning Hensch, ein deutscher Polizeibeamter, erster internationaler Ermittler vor Ort.

0-Ton HENNING HENSCH (OSZE-Ermittler):
"Es war nicht so. Die Leichen haben da zwar gelegen, aber sie sind dort hingebracht worden von den serbischen Sicherheitsbehörden, nachdem die eigentliche Tatortaufnahme – und das hängt wieder zusammen mit diesem Ermittlungsrichter – abgeschlossen war, nachdem beschlossen war: wir bringen die Leichen jetzt weg."
http://www.ag-friedensforschung.de/regionen/jugoslawien/panorama.html
Tschetenische Terroristen in Nord Albanien 1998-1999: Finanziert und ausgebildet von dem NATO Verbrecher Banden der USA und vor allem des Mi6 und der SAS, und deren Drogen Verbrecher Kartelle. siehe OSCE und andere Geheimdienst Berichte, wie von CSIS und Janes.com
Für alle Verbrechen in Süd und Mittel Amerika, inklusive der Ermordung des Erzbischofs in El Salvador war Jimmy Walker verantwortlich, inklusive Todesschwadronen, Drogen Handel usw.. und aktiver Teilhaber in der Iran Contra Affäre. Die Lügen ebenso des Wolfgang Petrisch sind Legende.
Laut »Figaro« hätten zudem zwei OSZE-Fahrzeuge mit amerikanischen Nummernschildern den ganzen Tag auf einem Hügel oberhalb von Racak gestanden, von wo aus das Dorf gut zu überblicken sei – nicht aber der 500 Meter entfernte Hohlweg, in dem am nächsten Morgen UCK-Kämpfer herbeigerufenen Journalisten und OSZE-Mitarbeitern den Leichenberg gezeigt hätten."
…………………
Die angesprochenen Quellen wurden bislang nicht genannt. Entsprechend verfährt auch der Kosovo-Sonderbeauftragte der EU, Wolfgang Petritsch, acht Wochen nach Übergabe des Ranta-Berichts (Die Zeit, 12.5.99):"Vergangene Woche ist er aus Helsinki nach Wien zurückgekehrt. Finnische Forensiker haben zum wiederholten Mal die Opfer aus Racak untersucht, von denen Belgrad behauptet hatte, es seien Kämpfer der UCK gewesen.… Die Ergebnisse sind eindeutig: Eine geplante Mordtat an 45 Menschen allesamt von der Seite oder von vorne erschossen, manche enthauptet.… Aber die Europäische Union zögert bis heute, die Ergebnisse zu veröffentlichen. Immer noch ist die Sache brisant. Man fürchtet, eine neuerliche Verurteilung der Serben könnte einen Friedensschluss mit Milosevic erschweren."
http://www.wissenschaft-und-frieden.de/seite.php?artikelID=1356
Ambassador William G. Walker
Former Head of the Kosovo Verification Mission
Kosovo and the Balkans: The Future of South-Central Europe
An Address by
Ambassador William G. Walker
Former Head of the Kosovo Verification Mission
A thirty-eight year veteran of the Foreign Service, Ambassador Walker has served mostly in Latin America: Bolivia, Brazil, El Salvador, Honduras, Peru, and on the Argentine desk in Washington. From 1985-88, he was Deputy Assistant Secretary of State in the Bureau of Inter-American Affairs responsible for Central America and Panama. From 1988-92 he served as Ambassador to El Salvador. From 1994-97, he was the Vice President of the National Defense University in Washington, D.C.
Kosovars Honour US Diplomat on Massacre Anniversary
As hundreds marked the 17th anniversary of a massacre of Kosovo Albanians in Recak/Racak, work started to build a statue of William Walker, the US diplomat who first reported the atrocity.
BIRN
Recak/Racak
Drita Dugolli from Recak/Racak, whose relatives were killed, with her two children at the memorial. Photo: BIRN.
Hundreds of people visited the memorial complex in the village of Recak/Racak on Friday to mark the anniversary of the killings of more than 40 Kosovo Albanians on January 15, 1999.
One of those who attended, Shaip Mustafa, an 85-year-old from Recak/Racak, recalled how he saw the bodies of the victims 17 years ago on a hill near the village.
"The war was dirty. The Serbs did not spare anyone. I have seen wars before, but soldiers fought against soldiers," Mustafa told BIRN.
Serbian security forces surrounded Recak/Racak and started attacking it on the morning of January 15, 1999, then entered the village and raided houses.
Some men tried to hide but were discovered, beaten then taken away and shot. Belgrade initially insisted that the casualties were Kosovo Liberation Army guerrillas.
US diplomat William Walker, who at the time was the chief of the OSCE ceasefire verification mission to Kosovo, took part in the memorial.
Walker first reported the event and said it was a "crime against humanity", and that the victims were civilians
He participated in an inauguration ceremony on Friday to lay the foundations for a statue which is being erected in his honour in the village.
"It was a surprise. I was not told that this was going to happen," he said.
Walker also gave a speech at a memorial event organised by the Shtime/Stimlje municipality.
"Even though we are commemorating a sad day, a sad event, by coming here, and meeting the people of Recak, by meeting the kids of Recak, and meeting people like yourselves, I'll walk away today optimistic about the future of Kosova," Walker said.
William Walker lays the first concrete for the new statue. Photo: BIRN.
The attack on Recak/Racak was part of the Hague Tribunal indictment against Slobodan Milosevic at the Hague Tribunal, but the verdict was never delivered because he died in 2006…..
http://www.balkaninsight.com/en/article/recak-marks-massacre-anniversary-01-15-2016
Helena Ranta: Foreign Ministry tried to influence Kosovo reports
Biography published of world-famous forensic dentist
Helena Ranta
Forensic dentist Helena Ranta says that officials of the Ministry for Foreign Affairs had tried to influence the content of her reports in 2000, when Ranta was commissioned by the European Union to investigate the events of Racak in Kosovo.
Ranta put forward her allegations on Wednesday at the publication of her biography in Helsinki. The book was written by Kaius Niemi, a managing editor at Helsingin Sanomat.
"Three civil servants of the Ministry for Foreign Affairs expressed wishes by e-mail for more far-reaching conclusions", Ranta said. "I still have the e-mails."
More than 40 Albanians were killed in the village of Racak in January 1999. The investigation by Ranta's working group was very charged from the beginning. It was commonly assumed that Serb forces had perpetrated a massacre, which helped persuade NATO to launch bombings of Yugoslavia in the spring of 1999.
In her investigations, Ranta focussed on forensic medicine; she did not want to take a stand, at that stage, on politically and legally loaded terminology. In the summer of 2000 she submitted her report to the War Crimes Tribunal in The Hague, and a summary of the report to the EU member states.
Ranta says that the head of the Foreign Ministry's political section at the time, Pertti Torstila, who now holds the position of Secretary of State, asked her to remove a comment from the report, that was "very mildly critical" of the foreign affairs administration.
Officials at the Foreign Ministry had also hoped that Ranta would have drawn conclusions on how many people fired shots and if any of the shots amounted to a coup de grace.
"I feel that it was more a task for the war crimes tribunal", Ranta says in the book.
Torstila disputes Ranta's claims.
"My first reaction is amazement", Torstila says by e-mail from Washington.
"I feel that we had an exceptionally open and close relationship with Helena Ranta in our difficult work in Racak and Kosovo. I believe that we both sought genuinely and jointly to find the truth."
In any case, pressure was high, specifically in the investigation over Racak. That pressure also came from the media.
According to Ranta, in the winter of 1999 William Walker, the head of the OSCE Kosovo monitoring mission, broke a pencil in two and threw the pieces at her when she was not willing to use sufficiently strong language about the Serbs.
Helena Ranta has worked in the Balkans and Iraq, and has investigated the victims of the sinking of the Estonia and the victims of the 2004 tsunami in Thailand, where nearly two hundred Finnish holidaymakers were among the dead.
Ranta also testified at the trial of former Yugoslav President Slobodan Milosevic in The Hague in 2003.
http://www.hs.fi/english/
Ominous Signs in Kosovo: Architect of 1999 Staged Atrocity Finally Admits: I Support Greater Albania

Former U.S. ambassador and unofficial CIA operative William Walker leading select reporters stomping through the supposed crime scene in the hoax that started a war.
Ranta Rants
Oct 24th, 2008 | By De-Construct.net | In Controversy, Current, Kosovo-Metohija Crisis

William Walker was instrumental in providing a trigger event to the US leadership and NATO for the planned aggression against Serbia
Helena Ranta Accused Western Officials of Pressuring her to Set the Serbs Up
Several days ago, a Finnish online news source reported Helena Ranta, forensic dentist involved in Racak hoax, complained in her recently published biography she was pressured by the Western authorities to accuse the Serbs for the "massacre".
Ranta also revealed William Walker, an American official stationed in Serbian province of Kosovo and Metohija in 1999 under the OSCE umbrella — notorious for being sent to stir problems in various parts of the world, rather than help calm the tensions — was so angry over her apparent refusal "to use sufficiently strong language" against the Serbs, that he broke the pencil at some point and threw the pieces at her.
Ranta's story sparked a lot of interest in Serbia, since the Racak fraud was used as a justification and trigger for the US-led NATO bombardment of Serbia that lasted almost three months (78 days). Ranta was promptly interviewed by Vecernje Novosti, where she further explained Walker insisted she should tell the media that Serbs have committed a massacre in the village of Racak, and that the killed were not combatants, but "innocent civilians".
At the same time, she resolutely denied there were two different forensic reports she had put together, as established by the three Berliner Zeitung reporters, Bo Adam, Roland Heine and Claudius Technau. Speaking to Belgrade reporter, Ranta insisted there was only one report she wrote and that she acted perfectly professionally at all times, being it was simply not up to her to issue judgments on one side's innocence or guilt.
However, according to the Serbian forensic expert Dr. Slavisa Dobricanin, the head specialist who examined the bodies of 40 Albanians in the Racak ravine, and investigative judge Danica Marinkovic who inspected the scene of the alleged crime, Ranta is merely weaving a new web of lies almost ten years later.
Too Little, Too Late: Do Spare Us the Crocodile Tears!
According to them, the woman who appears to have "opened her very soul" these days to the media, revealing the kind of pressures she was under while working on the bodies piled in the Racak ravine has, in fact, personally stated everything for which she blames the former OSCE Mission chief in Kosovo province, William Walker. That those were the "innocent victims massacred" in Racak, that they were "unarmed civilians" and that it was a "crime against humanity" — those were Helena Ranta's words, former Director of the Institute of Forensic Medicine in Pristina Professor Slavisa Dobricanin confirmed for Novosti.
"I'm not surprised by the things Ranta is saying now, but she still hasn't admitted her own statements back then were false. I clearly remember she was constantly under surveillance by the German embassy and the Finnish ministry. The Finnish Minister for Human Rights Timo Labelma (sp?) was at the Institute all the time, as well as the German embassy's Second Secretary. She was very nervous and constantly outside the autopsy room. She was always in the Institute hallways, talking to someone on her mobile phone", Professor Dobricanin, who was leading the team of Serbian pathologists in the Racak case, recalls.

Helena Ranta, Finnish forensic dentist, never expressed regret over the ugly role she played in providing an alibi for the US-led NATO aggression against Serbia, based on lies and false allegations
Pointing out Ranta did not have sufficient expertise to determine the nature of the Racak conflict, Dobricanin is not prepared to forgive the lies with which Ranta smeared Serb pathologists at the time, claiming their analysis of the gunpowder residue found on the hands of the KLA terrorists piled up in the Racak ravine was "outdated".
"When a person shoots from the firearm, the traces of unburned gunpowder remain on the palms of the hands. When we suspect someone has been using firearms, we check for those remains with the adhesive strips and diphenylamine solution to determine whether the residue found is the gunpowder. We have followed the same procedure in the Racak case. On the palms of the hands of 37 bodies out of 40 we have found the gunpowder residue. There was absolutely no question that those men were the terrorists," Dr. Dobricanin asserted.
"But, for Helena Ranta this method was 'old and outdated'. She claimed Interpol had prohibited it way back in 1968. Only she said that much later, despite the fact that every single autopsy report, and there was a total of 40 of them, was jointly signed by the international and Serb pathologists without a shred of disagreement," Dobricanin said. ………………..http://balkanblog.org/2008/10/26/helena-ranta-foreign-ministry-tried-to-influence-kosovo-reports/