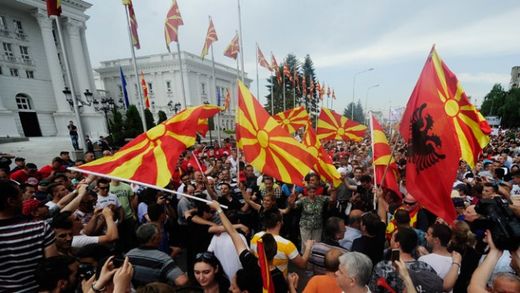 With tensions heating up between the United States and Russia over a number of issues – Ukraine, BRICS, sanctions, and NATO encirclement to name a few – the West continues its move in toward Russia's borders. The latest target in the Anglo-American destabilization campaign has now come forward – Macedonia.
In the attempt to destroy the elected government of Macedonia, George Soros, NATO, and the Western Color Revolution apparatus have all come together to ensure that the will of the Macedonian people is denied as is the will of populations in all Western-style democracies.
As informed observers might well suspect, any color revolution taking place in Eastern Europe will involve the heavy hand of George Soros.
George Soros is most well-known for playing a major role in the funding and facilitating of the "Bulldozer Revolution" in Serbia that overthrew Slobodan Milosevic in 2000, Georgia's "Rose Revolution" of 2003, the 2006 push to move Turkey toward a more Islamist governing structure, and even the Occupy movement in the United States among a great many others – none of which brought anything other than greater misery, impoverishment, and police state mechanisms to bear on the general public. The Occupy movement, being the only exception, still brought nothing to its participants except the opportunity to burn off excess anger and energy along with a few cracked protester skulls. It was otherwise an incredible waste of time.
In addition, George Soros has been heavily involved in the social unrest and movement-wrecking activity that has taken place all across the United States in recent months. From Florida to Ferguson and then on to Baltimore, George Soros' Foundations have been involved in making sure that not only are American citizens unable to overcome racial divisions with mutual cooperation but that even the racially isolated participants are unable to accomplish anything of substance.
In Macedonia, like in the United States, Soros organizations work under the pretense of left cover. In other words, Soros NGOs fund and operate organizations and movements that are seen as Left in nature but are, in reality, revolutionary organizations designed to push a political agenda, change Macedonian culture, install puppet regimes, and ultimately serve the purpose of the Anglo-American oligarchy.
George Soros' most well-known NGO is the Open Society Institute, is highly active in Macedonia and itself works with a plethora of "civil society organizations" throughout the country that function as the OSI (and hence the West's) tentacles in Macedonian society. This is what has prompted some in Macedonia to say in regards to Soros that "Soros came into Macedonia like a Trojan horse, and now he is an octopus."
The OSI has been active in Macedonia for some time, with Vladimir Milcin heading the organization for nearly twenty years. Milcin was a former police informant in the days of Communism. Milcin was instrumental in ratting out a dissident actor Risto Siskov.
The Soros networks in Macedonia are extremely powerful. As Jay Nordlinger reported for the National Review after having traveled to Macedonia,
In America for the past many years, we have had a plethora of Soros-funded groups: MoveOn.org, Media Matters, the Center for American Progress, etc. Macedonia has its rough equivalents. But they mean more in Macedonia than the Soros-funded groups do in America. Back home, we have a zillion conservative groups to counter the Soros groups. The Left has its billionaires, we have ours. You hit me with Soros? Okay, I'll hit you with a Koch or two. In Macedonia, I'm told, there is no tradition of donating money to a cause. There aren't think tanks and activist groups and the rest on the right. So, the "Sorosoids" own the field.
While this may be a bit of an exaggeration – the Right clearly has its own agents of control and dissemination – it is clearly true that the Soros influence extends far beyond being able to drive public opinion through clever networking ideas. Indeed, through a much tighter grasp upon media outlets themselves, Soros is vastly more influential in the way that news and events are reported than in other locations, even those located in Eastern Europe.
That being said, it should be pointed out that Macedonian news outlets like Telma and 24 Vesti are both major players in promoting the anti-government protests (in addition to other operations). Both of these outlets are funded by George Soros.
Indeed, even "opposition leader" Zoran Zaev is a notorious Soros-funded agent with close connections to the CIA. Not only Zaev, but his entire Social Democratic Union of Macedonia (SDSM) party (the former Communist party) has been entirely taken over by the Soros machine. As Wayne Madsen writes,
Zaev and [Radmila] Sekerinska are said by Macedonian insiders to be nothing more than fronts for former Prime Minister and President Branko Crvenkovski who continues to head up the SDSM and accept large amounts of largesse from such CIA NGO laundry operations as the National Democratic Institute (NDI), National Endowment for Democracy (NED), Freedom House, and Soros's Open Society Institute (OSI) to foment a themed revolution against Gruevksi's right-of-center VMRO-DPMNE government.

It is also a known fact that the OSI receives are large amount of money from the US State Department's USAID.
Interestingly enough, Assistant Secretary of State for European and Eurasian Affairs, Victoria Nuland, has been charged by Macedonian intelligence of conspiring with Zaev of the SDSM.
Wayne Madsen further describes the role of Victoria Nuland by writing:
The unapologetic foul-mouthed Nuland met on the side of the 51st Munich Security Conference in Germany with Macedonian Foreign Minister Nikola Poposki and President Gjorge Ivanov to express her displeasure at Gruevski's insurrection charges against her friend Zaev and his SDSM co-conspirators. Earlier, Nuland had offered to mediate a long-standing dispute between Greece and Macedonia over the latter's use of the name Macedonia, which some Greeks consider to be a solely Greek name. Macedonian observers viewed Nuland's interest in the name dispute to be a trap that would enable a pro-U.S. government, along with the Zionist and global banker baggage that comes with any such «themed» coup d'etat, to seize power in Skopje. Nuland and her co-conspirators were hoping for a replay of Kiev in what can be termed «Kiev Version 2.0.»
Nuland and her co-conspirators in Skopje are alarmed over the speed at which the Macedonian security services rounded up the coup plotters. Macedonian police, in raids conducted in Skopje and Veles, seized five laptop computers, three desktop computers, 19 mobile phones, 100 CDs and DVDs, 17 hard disks, and 9 savings deposit books used by the coup plotters, including a number linked to Soros-financed NGOs. The bank accounts of the plotters reportedly were flush with healthy cash deposits from the CIA as the date of the planned coup approached.
The use of social media by the Soros/CIA coup plotters should come as no surprise. Social media served at the very core of the themed revolutions sponsored by the CIA and Soros twice in Ukraine (Orange Revolution and Euro-Maidan uprising), Jasmine Revolution (Tunisia), Lotus Revolution (Egypt), Rose Reviolution (Georgia), Tulip Revolution (Kyrgyszstan), and Green Revolution (Iran). In the case of Macedonia, there are clear indications that the Deputy Assistant Secretary of State in the Bureau of Democracy, Human Rights and Labor (DRL) Thomas Melia, responsible for DRL's work in Europe, including Russia, as well as the Middle East and North Africa, conspired directly with Zaev to mount a coup against the Gruevski government. Melia is the former deputy director of Freedom House, a Cold War-era neoconservative bevvy of U.S. war hawks based in New York. Although founded in 1941 by such progressives as Eleanor Roosevelt, Ralph Bunche, journalist Dorothy Thompson, novelist Rex Stout (creator of Nero Wolfe), and Republican presidential candidate Wendell Willkie (who would be considered by today's Republicans in the U.S. as a stark-raving liberal), Freedom House has devolved into a neoconservative chatter source having employed as their board members in recent years such war hawk cretins as Paul Wolfowitz, Ken Adelman, Zbigniew Brzezinski, Donald Rumsfeld, and Otto Reich. Freedom House has been caught red-handed funneling CIA money to opposition groups in Iran, Sudan, Russia, and China. In essence, Freedom House, like Soros's NGOs, serves as a conduit for CIA support for rebellious opposition forces in dozens of countries around the world, countries that now include Macedonia, as well as Hungary, Venezuela, Syria, Egypt, Serbia, Jordan, Mexico, and Cuba.
In addition, it has been reported by a number of media outlets, most notably the Russian and Macedonian press, that George Soros has tapped into the Canvas network, enlisting the organization to "help" in Macedonian protests. ….
…
500.000 Tode gab es mit den kriminellen Umtrieben des CIA, der Rand Gruppe in Indonesien, vor 50 Jahren.
Wie im Balkan heute, wurde damals das liberale Indonesien in ein Construct von Islam Terroristen und strengen Islame Ritten umgewandelt. Genau das Chaos versuchen die Amerikaner vor allem mit einer Bildungs Sabotage mit Kriminellen, die sich Politiker nennen zu beschleunigen. Die Flucht Welle aus dem Balkan spricht für sich. Auch wurde wie in Chile, durch die CIA Partner der Generalstabs Chef in Indonesien ermordet, identisch was man geplant hatte, in der Ukraine, den Staatsspräsidenten zu ermorden. Damals war der Mi6 auch schon unterwegs, bei dem Morden von loyalen Regierungs Militär.
U.S. academics and policy intellectuals with connections to the CIA and RAND Corporation publicly urged their contacts in the Indonesian Army "to strike, sweep their house clean" (Guy Pauker), while "liquidating the enemy's political and guerrilla armies"