Demonstrationen gegen Carl Bildt in Stockholm, der auftauchte, als man Olaf Palme ermordete. Olaf Palme war dieser Schwedischen Kriegs Verbrecher Familie im Wege, welche für den CIA und die NeoCons arbeitet. Allein Verantwortlicher ebenso, ist Carl Bildt, das man soviel Probleme  macht Edward Snowdens nach Schweden einzuladen. Carl Bildt missbraucht das Schwedische Department of State. Kriminelle fürchten um die Fakten, ihrer Verbrechen und Massen Morde im Ausland.Die Ehefrau von Carl Bildt, sitzt im Europa Parlament.Der Niedergang von Schweden ist identisch mit dem Auftauchen und Installierung diese Bestechungs Agenten von Georg Soros und dem CIA.
Carl Bildt mit dem Gangster Richard Holbrook, der von höheren Mächten eliminiert wurde.
Bildt & Co. have continued to spread the empire's propaganda long after it has lost all credi-
bility even in the U.S.
Carl Bildt gilt selbst in den USA, als eine extrem unseriöse Person inzwischen, der nur herumlügt und Fakten wie den Putsch mit Mord an Allende bestreitet, was nicht einmal Kissinger macht, der Auftraggeben. Ein Lügner, der Alles zusammen lügt, selbst wenn es US Politiker bestätigen.
"I always thought that our
allies and other countries
were derelict with their
silence. Sweden was the
one honourable exception."
— Daniel Ellsberg,
the former U.S. official
who disclosed the
Pentagon Papers (PDF)

"We were wrong, so
terribly wrong."
— Robert MacNamara,
U.S. Secretary of Defense
during Vietnam War
http://www.nnn.se/n-model/foreign/warrior.htm
Carl Bildt, ist ein typischer Georg Soros Mann, der Vieles verschweigen und vertuschen will.
Was sagt uns diese Bild: Carl Bildt, arbeitet für die CIA und wie die TV Rede in Washington vor vielen Jahren zeigt. Er ist Kriegs Treiber der NeoCons und jeder Lüge für Krieg. In Scheden gut bekannt, das Carl Bildt und die Öl Firma Lundin, zentraler Punkt der Massaker waren, ebenso das man einen neuen Staat organisierte, um die Öl Vorkommen zu realisieren, ohne dafür bezahlt zuhaben. wikileaks, viele Medien auch in Schweden schreiben das Carl Bildt ein CIA Informant ist, ebenso untersuchte die Schwedische Staatsanwaltschaft das Korruptions System rund um Carl Blidt.
Vor über 20 Jahren schwafelte er schon nur dummes Zeug, als NeoCon Kriegs Gotte in Europa.
Mit Ethnischen Säuberungen hat Carl Bildt kein Problem, als Promoter der Erfindung der Probleme mit dem Süd Sudan, obwohl es nur um seine Öl Firma ging.
Carl Bildt, promotete die Massen Morde im Süd Sudan, Kinder Soldaten und Morde nur um Einheimische von ihren Öl Feldern zuvertreiben was ein Geschäft der NATO war, für die Partnerschaft von Schweden in den Afrika Kriegen und Morden.
Amnesty-Bericht
Amnesty: Konflikt führt zu brutalen Verbrechen gegen die Menschlichkeit
Controversies and criticisms
Opposition parties, politicians and journalists have questioned Carl Bildt's suitability as Sweden's Foreign Minister for his private stance on international issues and his private affairs as a businessman with interest in Russian gas giant Gazprom and Lundin Petroleum, an oil company with activities in war-torn Sudan.[7][8]
Lundin Oil operations in Sudan
Carl Bildt joined the board of directors of Lundin Oil AB in 2000
, after serious concerns had surfaced that the oil industry was exacerbating the war in Sudan. Lundin Oil was the lead operator of a consortium that worked in the area that had become the center stage of Sudan's civil war.
Keith Morgan
Lundin provided both the reason and resources to the armed forces of the government of Sudan to wage war against civilians.
A recent report confirmed that the Lundin Oil Consortium led by the Swedish Oil Company Lundin Oil AB had caused enormous loss of human lives and destruction of property in Sudan. Due to the oil exploration, over ten thousands people died and almost two hundred thousand were violently displaced. The start of oil exploration by Lundin in 1997 set of a vicious war in the area.  The case of Lundin in Sudan could be taken as the most telling and convincing testimony of the link between oil and destructive civil wars in Africa. It is an incredible proof that greed leads to gross human rights violations and perpetuation of international crimes. Lundin provided both the reason and resources to the armed forces of the government of Sudan to commit crimes against humanity.
The infrastructure built or commissioned by the Consortium enabled the armed forces to reach the rural population and attack the civilians that lived there.Lundin signed a contract with the government for the exploitation of oil in the concession area called Block 5A that was not at the time under full government control. And all this happened at a time when some of the currently prominent politicians in Sweden, such as the foreign minister Carl Bildt served as Board of Directors of Lundin Oil. Lundin signed a contract with Khartoum and proceeded with oil exploitation at the time when Sudan was in the middle of a civil war and the company was confronted with reports that their infrastructure was assisting international crimes.
More disconcerting is the role played by Carl Bildt and Co. who now claims to care about human rights violations in Africa and elsewhere. This brief is specifically concerned with the following:
1.    There should be an investigation into the role of the Lundin Consortium in the oil war in Sudan
2.    The leaders of the oil companies that made up the Consortium and their respective governments should be questioned and interrogated; and are yet to account for their failure to act
3.    The victims have the right to compensation…………….http://currentanalyst.com/index.php/opeds/139-oil-and-war-in-sudan-the-role-of-carl-bildt-and-co
Peter Bildt, segele mit einem Katamoran, vor Portugal und als seine Frau Sonja in einen Hafen wollte, wo man einen schwedischen Arzt kannte, ermordete er die Frau und ward die Frau über Bord.
Carl Bildt´s kusin Peter fick 19 år för mord på sambon
Carl Bildt´s kusin dömdes till 19 års fängelse för ett brutalt mord på sin sambo Sonia.

Sonia slogs ihjäl utav Peter Bildt, kusin till massmördaren Carl Bildt.
http://www.aftonbladet.se/nyheter/article270169.ab
Carl Bildts kusin Peter Bildt
Lukas Lundin – Ian Lundin – Lundin Oil/Petroleum – Criminals connected to Wallenberg Mafia family
I revealed that Lundin brothers tells the Swedish government what to do so the mass murder in Africa, done by Lundin brothers, will not be public news.
Ashley Heppenstall
Bertil Lundin is brother of criminal Adolf Lundin, a criminal that worked for the fascist-pedophile Swedish gov./secret police until he got his verdict and died in 2005.
Magnus Unger
In den USA, wie er sich anbiedert
Carl Bildt Mörder Banden im Süd Sudan, was durch Deutsche Aussenpolitik gedeckt wird, ebenso durch Verbrecherische Hilfs Organisationen wie Worldvision
Ian Lundin der Partner von Carl Bildt, im Süd Sudan, als er die Mord Banden dirigiert

Kinder Soldaten kein Problem bei Carl Bildt.
Internationale Verbrechen, Politiker Morde rund um CIA und Kollegen.
http://highcrimes.lege.net/en/index.html
Wie bei der Albaner Mafia, tauchen die Ratten der Welthungerhilfe auf.
War Crimes & Oil – Sudan

These Sudanese Soldiers Were Fighting For Oil Money They'll Nev
Oil Wars, 2002 – Sudan – The discovery of oil in Sudan has lead to a civil war destined for escalation, as one side buys ballistic missiles, what will the other buy?

For downloads and more information visit:
http://journeyman.tv/10254/short-film…
In Sudan, a vicious civil war over oil has cost thousands of Sudanese lives.
Sudan's oil is located largely in the neglected south, in areas the government must bring under control before exploration can begin. Instead of bringing development, oil is arming both sides in this terrible war. Contains strong footage of Peter Gadet, the SPLA commander who has defected from the SPLA and is threatening the peace deal for Southern Sudan.
Produced by Julie Flint. Ref – 1391
Journeyman Pictures is your independent source for the world's most powerful films, exploring the burning issues of today. We represent stories from the world's top producers, with brand new content coming in all the time. On our channel you'll find outstanding and controversial journalism covering any global subject you can imagine wanting to know about.

Ukraine Prez Candidate Interrogates Captured Separatist
der die korruptesten Politiker Familien der Welt einkaufte, über seine Gas und Öl Firma in Zypern. Daruntern Hunter Biden, einen John Kerry Vertrauten, einen Ex-Präsidenten der Polen und Carl Bildt ist überall dabei wenn es um Mord und Öl und Gas geht mit der Lundin Öl Firma aus Schweden. Idelaer Partner von Steinmeier.
Oil and War in Sudan: the Role of Carl Bildt and Co..
oligarch Igor Kolomoiski offers $10,000 bounty from his bank for "Russian Scum". pic.twitter.com/2NBZr4x4aw
12:57 p.m. Thu, Apr 17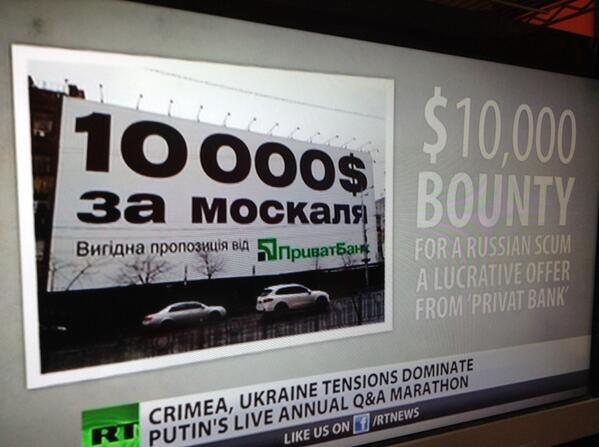 Twitter by: Revo @arbolioto
Kommentar des offiziellen Vertreters des Außenministeriums Russlands, Alexandr Lukaschewitsch, vom 16. Mai zur Veröffentlichung des zweiten Berichts des Hohen Kommissariats der Vereinten Nationen für Menschenrechte zur Lage der Menschenrechte in der Ukraine. 
Wir richteten unsere Aufmerksamkeit auf den zweiten Bericht über die Menschenrechtssituation in der Ukraine, welcher vom Hohen Kommissariat der Vereinten Nationen für Menschenrechte (UNHCHR) veröffentlicht wurde.
Leider müssen wir feststellen, dass der Bericht wenig gemein hat mit der wirklichen Lage der Dinge bezüglich der Menschenrechte in der Ukraine. Das völlige Fehlen von Objektivität, die eklatanten Diskrepanzen und "doppelten Standards" lassen keinen Zweifel daran, dass seine Verfasser einen politischen Auftrag zur "Weißwaschung" der selbsternannten Machthaber in Kiew ausführten. Lesen Sie mehr »
Man braucht einen failed State und dann kann man in Ruhe das Öl stehlen, wo der Regierungs Chef ein paar Dollar aufs Konto in Schweden oder in den USA erhält und die Staatsbürgerschaft

Latest Book
The Truth About US Foreign Policy and Everything Else
For over 65 years, the United States war machine has been on auto pilot.  Since World War II, the world has believed that US foreign policy means well, and that America's motives in spreading democracy are honorable, even noble.  In this startling and provocative book from William Blum, one of the United States' leading non-mainstream chroniclers of American foreign policy and author of the popular online newsletter, Anti-Empire Reports, demonstrates that nothing could be further from the truth.  Moreover, unless this fallacy is unlearned, and until people understand fully the worldwide suffering American policy has caused, we will never be able to stop the monster. Read more →