update: 27.7.2013
Die türkische Polizei gehorchte den Befehlen des Geheimdienstes MIT und liess die Mörder frei, was identisch an Vorgänge erinnert mit den Kosovo Terroristen und dem Bin Laden Financier Yassin Kadi, einem Langzeit Partner des Erdogan, der schon mit den Taliban vor 20 Jahren zusammen arbeitete und mit Terroristen wie mit Yassin Kadi (auf der Internationalen Terror Liste noch in 2012. Zuständig auch für die Drogen Kartelle zwischen den Albaner und Türken.
aus 2013
Der NATO, Bush, Richard Perle Massen Mörder: Prinz Bandar
Die Ausgeburt des Satans! Bandar bin Sultan – oberster Christenverfolger Syriens
Wie die der türkischen Regierungspartei AKP nahestehende türkische Zeitung Today's Zaman soeben mitteilte, hat die türkische Polizei auf der Autobahn Konya-Ankara drei Personen verhaftet, die verdächtigt werden, Pavlov Yazici, den griechisch-orthodoxen Bischof von Aleppo und Hatay, und Yuhhana İbrahim, den assyrisch-orthodoxen Bischof von Aleppo, ermordet zu haben. Bei den drei Personen handele es sich um eine Person tschetschenischer Nationalität, eine Person russischer Nationalität und eine Person syrischer Nationalität…
Wie die türkische Zeitung Hürriyet dazu weiter mitteilte, wurden die verdächtigen Personen nach ihrer Verhaftung wieder freigelassen und es wurde ihnen befohlen, in ihre Heimatländer zurückzukehren.
Es drängt sich der Verdacht auf, dass durch die Freilassung der Verdächtigen verhindert wurde, dass sich unzweideutig herausgestellt hätte, dass der Verdacht richtig ist, dass die Entführer der beiden christlichen Bischöfe und Mörder eines zu ihnen gehörenden Kaplans einer von der türkischen Regierung und finnischen Freunden des gepflegten Terrorismus unterstützten Terrorbande, die von Abu Omar, dem Tschetschenen, angeführt wird, angehören.
A Catholic priest has been killed in Syria, it has been confirmed by the official Vatican news agency.
Franciscan Father Francois Murad died after fighters linked to the jihadist group Jabhat al-Nusra attacked the monastery he was staying at, local sources say.
Catholic Online links to amateur footage purporting to show the 49-year-old's horrific death and claims: "The Vatican is confirming the death by beheading of Franciscan Father, Francois Murad, who was martyred by Syrian jihadists on June 23."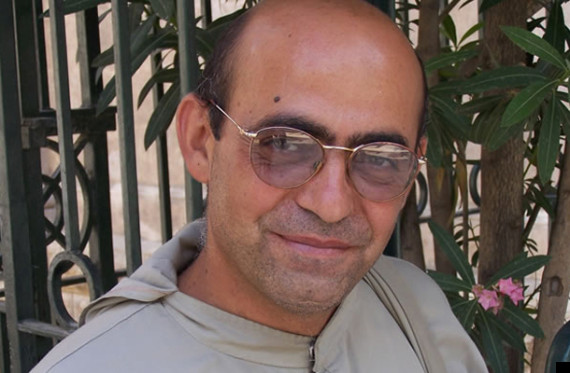 Franciscan Father Francois Murad died in Syria, the official Vatican news agency has confirmed
It shows a man the channel understands is the priest, sitting cross-legged with his hands bound, alongside two other men while fighters surround them chanting "Allah Akbar" (God is great).
As the first man, believed to be Father Murad, is beheaded with what appears to be a kitchen knife, several observers are seen stepping close to his body to capture close-up photographs and video.
The site claims Father Murad had been accused of collaborating with the regime of Syrian President Bashar Assad, though the accusations are unconfirmed.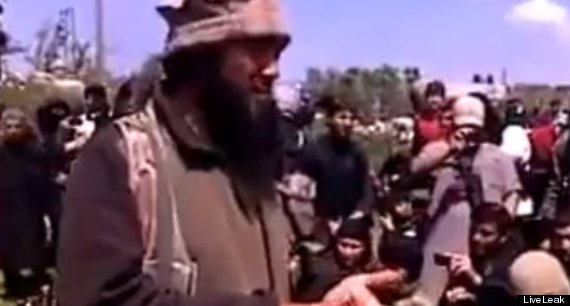 A still from unconfirmed footage which purports to show Father Murad's death by beheading
The official report into Father Murad's death – submitted via the Fides news agency – states he died in Gassanieh, northern Syria. It claims the circumstances of his death "are not fully clear", but confirms the monastery where he was living had been attacked by militants.
Fides states Father Murad had began the construction of a coenobitic monastery in Gassanieh, shortly after being ordained. At the start of the civil war, the structure was bombed and he moved to the convent of the Custody of the Holy Land for safety.
"Let us pray," wrote the Custody of the Holy Land Pierbattista Pizzaballa OFM "so that this absurd and shameful war ends soon and that the people of Syria can go back to living a normal life.
"Unfortunately Syria has now become a battleground not only between Syrian forces, but also between Arab countries and the international community."
SEE ALSO:
Speaking to Syria Report, he added: "The world must know that the support of gunmen by the west is helping extremists in killing Syrians. With such stances, not a single Christian will remain in the east."
In May David Cameron announced Britain is to double military support for Syrian rebels to help them withstand the "onslaught" from Assad's regime.
Archbishop Jacques Behnan Hindo, titular of the Syrian Catholic archeparchy in Hassaké-Nisibis told Fides: "The whole story of Christians in the Middle East is marked and made fruitful by the blood of the martyrs of many persecutions.
"Lately, father Murad sent me some messages that clearly showed how conscious he was of living in a dangerous situation, and offered his life for peace in Syria and around the world."
…
http://www.huffingtonpost.co.uk/2013/07/01/francois-murad-catholic-priest-beheaded-jihadist-fighters-syria-_n_3527372.html?utm_hp_ref=uk
An extremely graphic video from Live Leak reposted by Catholic Online showed amateur footage of Father Murad's execution by beheading while dozens of men watched and chanted. In the video, a man believed to be Father Murad is first seen sitting with his hands bound before being beheaded with a simple kitchen knife. Onlookers chanting "Allahu Akbar" ("God is great") can be seen in the footage photographing and capturing video of the bloody scene. The video can be viewed here at Live Leak. (Warning: The video contains graphic content of the beheading.)
Catholic Online reported that Father Murad was murdered because the jihadi group believed he had been working with Syrian President Bashar Assad, though the Vatican did not confirm this report. The Catholic Church did, however, confirm the death of Father Murad by al-Qaida-backed militants in Gassanieh.
The Vatican issued the following statement to Catholic.org regarding the beheading of Father Murad
.
Syrian rebels beheads bishop François Murad
This video shows Syrian rebels slaughtering three people in the countryside of Edlib, including the Metropolitan "François Murad", who was patron of Sumaan al-Amoudi Monastery, under the charge of dealing with the government and the Syrian Army;the video shows people who speak Arabic with a broken accent, saying that through this act, they are applying the law of God.
Der Bin Laden Financier auch im Balkan: Yassin Kadi, arbeitet nun für die NATO, Erdogan und den Türkischen MIT
Syria War was Planned In Advance, Because Syria is Anti-Israel, Says Ex-French Foreign Minister Dumas
Bosnische Fighter wurden in Syrien identifiziert, welche prominente Terroristen in Bosnien schon waren

04 Jul 13
Syria Fighters Identified as Bosnian Islamists
Security services in Sarajevo have identified several Muslim fighters in Syria as Bosnian citizens and members of an armed militant group with alleged links to Al-Qaida.
Elvira M. Jukic
BIRN
Sarajevo
Weitere Artikel: FAZ
© Syrisches Präsidialamt F.A.Z.-Redakteur Rainer Hermann im Gespräch mit Baschar al Assad nahe Damaskus
Wie in den anderen Kriegen: Lügen über Lügen
"Canadian (UN) soldier testimonies from book : The Sharp End" by
James D. Davis
…
Bosnians had mortared their own children. For public relations
purposes."
http://web.archive.org/web/20021203100614/http://www.balkanpeace.org/
wcs/wct/wctu/wctu02.shtml