Das ist eine ziemlich heftige Geschichte, welche von der Mainstream Presse bis heute unter dem Tisch gehalten wird. DynCorps ist erneut, wie zuvor in Bosnien, in den besonders üblen Kinder Prostitutions Handel verwickelt in 2009 und wohl davor in Afghanistan.
Afghanistan, war wohl der letzte Abschiebe Bahnhof, nach Albanien und Bosnien auch für die Deutschen Profi Verbrecher der Hilfs Organisationen, wenn man Alfred Horn, rund um die Kinderhilfe, der Steinmeier-Schröder Bande sieht, mit Bodo Hombach, was da so in Albanien auch mit dem Top Drogen Boss: Sokol Kociu lief, rund ums Kinderhaus Tirana, was unter der Schirmherrschaft von Doris Schröder-Köpf stand.
DynCorp und der Frauen Handel auf dem Balkan
http://www.dyn-intl.com/index.aspx
Ur Quelle
http://archive.salon.com/news/featur…nia/index.html
In Deutsch
In Filmen sind die grausamen Männer, die arme hilflose Frauen zur Prostitution zwingen, meist zwielichtige Gestalten mit vorzugsweise ausländischer Herkunft.
Dass auch Angestellte der Regierungen von unseren westlichen zivilisierten Demokratien solchem Zeitvertreib frönen, zeigte damals die Besetzung Bosniens.
Die amerikanische Söldnerfirma DynCorp wurde von der amerikanischen Armee und von der UNO in Bosnien als zivile Hilfskraft verpflichtet.
Dort beteiligten sich alsbald Mitarbeiter von Dyncorp am florierenden Mädchenhandel. Die Männer kauften sich junge Prostituierte aus den örtlichen Bordells, und hielten sie dann wie Sklaven:
"Das Gespräch unter den Mitarbeitern drehte sich um die Prostituierten, die man besaß – wie jung sie waren, wie gut sie im Bett waren, und was sie gekostet hätten."
Dies hört DynCorp-Mitarbeiter Ben Johnston mit, und als er dann mithört wie ein besonders perverser Kollege prahlt, "mein Mädchen ist noch nicht mal 12″, beschließt er dagegen vorzugehen.
Johnston beschwerte sich in der Chefetage von DynCorp und bei der zuständigen Aufsichtsbehörde der US Army, aber ohne Erfolg. Stettdessen wird er von DynCorp gefeuert. Kathryn Bolkovac, eine andere Angestellte der Söldnerfirma, beschwert sich ebenfalls und wird auch gefeuert.
Beide gingen dann vor Gericht, und beide gewannen. Daraufhin feuerte DynCorp mindestens sieben in Bosnien stationierte Mitarbeiter, unter ihnen den Vorgesetzten des dortigen Lagers wegen der Vorwürfe des Frauenhandels.
Aber trotz der klaren Beweislage wurde bislang keiner der pädophilen Sklavenhalter vor Gericht gestellt:
"Wegen einer Kombination aus internationalen Verträgen, jurisdiktiven Schlupflöchern und bürokratischem Wirrwar können Mitarbeiter von privaten Söldnerfirmen wie DynCorp der Strafverfolgung entgehen, wenn sie die Verbrechen im Ausland begangen haben."
Zum generellen Problem des Mädchenhandels in kriegsversehrten Gebieten sagt Human Rights Watch:
"Zwangsprostitution ist in Ländern, die sich im Wiederaufbau befinden, allgegenwärtig. Hauptgrund ist das massive Kontingent an unbegleiteten, hochbezahlten und männlichen Mitarbeitern aller möglicher internationaler Organisationen."
Die eifrig geschickten Helfer sind also genau die, die den boomenden Mädchenhandel erst ermöglichen. Dies stellt Amnesty International auch in einem Report fest:
"Die Menge an NATO-geführten Friedenstruppen führte dazu, dass der Kosovo sich mit zwangsprostituierten Frauen füllte. Ein zuvor eher kleiner 'Markt' für Prostitution wurde so in eine große menschenhandelbasierte Industrie umgewandelt.
Die stationierten Friedenstruppen sorgen weiterhin für 80% des Umsatzes der Zuhälter, Bordellbesitzer und Mafiosi, die einheimische Mädchen entführen oder Frauen aus (anderen Ländern) einschleußen."
Dem Report zufolge sind an den Geschäften Soldaten aus Amerika, Frankreich, Deutschland und Italien beteiligt.
Anfang 2004 gab die Abteilung der UN für Friedenssicherung zu, dass "die friedenssichernden Truppen zunehmend als Teil des Problems des Menschenhandels gesehen werden, und nicht als Lösung."
DaRockwilda
#Cablegate: Depesche #09KABUL1651 deckt auf, dass Afghanen für Mitglieder der Söldnerfirma Dyncorp in Kundus die Dienste von Kinderprostituierten Bereitgestellt haben:
On the Kunduz Regional Training Center (RTC) DynCorp event of April 11 (reftel), Atmar reiterated his insistence that the U.S. try to quash any news article on the incident or circulation of a video connected with it. He continued to predict that publicity would "endanger lives." He disclosed that he has arrested two Afghan police and nine other Afghans as part of an MoI investigation into Afghans who facilitated this crime of "purchasing a service from a child."
Aus der Depesche geht weiter hervor, dass die US-Regierung nach Erhalt der Information sofort alles Notwendige veranlasst hat. Die Journalistin, die ein Video von den Ereignissen hatte, wurde prompt erfolgreich dazu gedrängt, nichts darüber zu veröffentlichen und der Skandal erfolgreich vertuscht werden konnte.
So läuft das in der freien Welt: wenn bekannt würde, was die US-geführten Koalitionstruppen und ihre Söldner in Afghanistan so treiben, könnte das schließlich "die Sicherheit" gefährden.
A damning dossier sent by Kathryn Bolkovac to her employers, detailing UN workers' involvement in the sex trade in Bosnia, cost the American her job with the international police force.
She was sacked after disclosing that UN peacekeepers went to nightclubs where girls as young as 15 were forced to dance naked and have sex with customers, and that UN personnel and international aid workers were linked to prostitution rings in the Balkans.
After a two-year battle, an employment tribunal ruled yesterday that Ms Bolkovac was unfairly dismissed by DynCorp, an American company whose branch in Salisbury, Wiltshire, dealt with the contracts of the American officers working for the international police force in Bosnia. There will be a further hearing at Southampton to decide the amount of compensation DynCorp must pay Ms Bolkovac…
Bosnia: The United Nations, human trafficking and prostitution
By Tony Robson
21 August 2002
There is mounting evidence that the United Nations has carried out a cover-up of the role played by its personnel in human trafficking and prostitution in Bosnia—a trade that has grown astronomically since the establishment of the Western protectorate seven years ago.
An American woman who served with the International Police Task Force (IPTF) in Bosnia recently won a case of unfair dismissal against a US State Department sub-contractor, after she was sacked for reporting an alleged prostitution racket involving other serving officers.
Kathryn Bolkovac was an employee of DynCorp Technical Services, one of the US government's top 25 service providers with 23,000 employees worldwide. In Bosnia DynCorp provides maintenance support for the US military, as well as recruiting American officers for the international police force through its UK subsidiary, DynCorp Aerospace Operations Ltd. DynCorp has earned $1 billion since 1995 for providing maintenance to the US military worldwide. The contract to provide recruitment for the IPTF is valued at $15 million.
The case against DynCorp Aerospace Operations Ltd was brought under the UK Public Interest Disclosure legislation, known as the "whistleblowers charter", which protects employees who make disclosures about malpractice within their company. Bolkovac had been posted to Sarajevo in 1999 to investigate traffic in young women from Eastern Europe who were forced into prostitution.
"When I started collecting evidence from the victims of sex-trafficking, it was clear that a number of UN officers were involved from several different countries, including quite a few from Britain," she said. "I was shocked, appalled and disgusted. They were supposed to be over there to help, but they were committing crimes themselves. But when I told the supervisors they didn't want to know."
Bolkovac first drew attention to the abuses in October 2000 in an email to DynCorp management. She was first demoted and then six months later sacked. On August 2, in a 21-page judgement, the Southampton Employment Tribunal found in favour of Bolkovac and against DynCorp Aerospace Operations Ltd. The company's claim that her employment was terminated because of gross misconduct was firmly rejected. Evidence of falsifying time sheets was dismissed as "sketchy to the point of being non-existent". Charles Twiss, the tribunal chairman stated, "We have considered DynCorp's explanation of why they dismissed her and find it completely unbelievable. There is no doubt whatever that the reason for her dismissal was that she made a protected disclosure and was unfairly dismissed."
Bolkovac is not the only employee of DynCorp to seek legal redress for unfair dismissal. An American aircraft maintenance technician, Ben Johnstone, filed a lawsuit against his sacking in 1999 after he also disclosed information about the involvement of co-workers and supervisors in the sex trade at the DynCorp hangar at Comanche Base, one of two US bases in Bosnia. The allegations included sex with minors, rape and buying and selling women for sex.
His allegations led to a raid on the base by the 48th Military Police Detachment on June 2, 2000. The operation by the US Army Criminal Investigation Division (CID) began to uncover evidence supporting the claims made by Johnstone. However, the investigation was wound up after the CID determined that, under the Dayton Agreement, UN officials and contractors enjoyed immunity. Two of the employees named by Johnstone and most heavily implicated in the abuses were sacked, but escaped criminal charges.
Johnstone was sacked the day before the raid for disciplinary reasons that were unsubstantiated—he merely received a letter of discharge for bringing "discredit to the company and the US Army while working in Tuzla, Bosnia-Hercegovina." Since 1998, eight DynCorp employees have been sent home from Bosnia, three have been dismissed for using prostitutes, and none have been prosecuted.
Bolkovac made disclosures to the UN chief in Bosnia, Jacques Paul Klein, and the UN's police commissioner in Bosnia in November 2000, but IPTF Deputy Commissioner Mike Steirs described her as "stressed and burned out" and her contact with the UN was terminated following her sacking.
….
http://www.wsws.org/articles/2002/aug2002/bosn-a21.shtml
Sex-slave whistle-blowers vindicated
DynCorp, a private military powerhouse, fired two employees who complained that colleagues were involved in Bosnian forced-prostitution rings. The employees went to court — and won.
 Das Original mail, über den Kinder Sex Handel und Prostitution vonDynCorps erneut in Kundus, im Ratten Schwanz der Deutschen Bundeswehr natürlich.
C O N F I D E N T I A L SECTION 01 OF 03 KABUL 001651 

SIPDIS 

DEPARTMENT FOR SRAP, SCA/A, INL, EUR/RPM 
STATE PASS TO NSC FOR WOOD 
OSD FOR FLOURNOY 
CENTCOM FOR CG CJTF-82, POLAD, JICENT 
KABUL FOR COS USFOR-A 

EO 12958 DECL: 06/23/2019 
TAGS PREL, PGOV, MARR, MASS, AF 
SUBJECT: 06/23/09 MEETING, ASSISTANT AMB MUSSOMELI AND MOI 
MINISTER ATMAR: KUNDUZ DYNCORP PROBLEM, TRANSPORT FOR PRESIDENTIAL CANDIDATES AND OTHER TOPICS
REF: KABUL 1480
..............................
¶4. (C) On June 23, Assistant Ambassador Mussomeli met with MOI Minister Hanif Atmar on a number of issues, beginning with the April 11 Kunduz RTC DynCorp investigation. Amb Mussomeli opened that the incident deeply upset us and we took strong steps in response. An investigation is on-going, disciplinary actions were taken against DynCorp leaders in Afghanistan, we are also aware of proposals for new procedures, such as stationing a military officer at RTCs, that have been introduced for consideration. (Note: Placing military officers to oversee contractor operations at RTCs is not legally possible under the currentDynCorp contract.) Beyond remedial actions taken, we still hope the matter will not be blown out of proportion, an outcome which would not be good for either the U.S. or Afghanistan. A widely-anticipated newspaper article on the Kunduz scandal has not appeared but, if there is too much noise that may prompt the journalist to publish.

¶5. (C) Atmar said he insisted the journalist be told that publication would endanger lives. His request was that the U.S. quash the article and release of the video. Amb Mussomeli responded that going to the journalist would give her the sense that there is a more terrible story to report. Atmar then disclosed the arrest of two Afghan National Police (ANP) and nine other Afghans (including RTC language assistants) as part of an MoI investigation into Afghan "facilitators" of the event. The crime he was pursuing was "purchasing a service from a child," which in Afghanistan is illegal under both Sharia law and the civil code, and against the ANP Code of Conduct for police officers who might be involved. He said he would use the civil code and that, in this case, the institution of the ANP will be protected, but he worried about the image of foreign mentors. Atmar said that President Karzai had told him that his (Atmar's) "prestige" was in play in management of the Kunduz DynCorp matter and another recent event in which Blackwater contractors mistakenly killed several Afghan citizens. The President had asked him "Where is the justice?"

¶6. (C) Atmar said there was a larger issue to consider. He
KABUL 00001651 002 OF 003
understood that within DynCorp there were many "wonderful" people working hard, and he was keen to see proper action taken to protect them; but, these contractor companies do not have many friends. He was aware that many questions about them go to SRAP Holbrooke and, in Afghanistan, there is increasing public skepticism about contractors. On the other hand, the conduct of the Combined Security Transition Command-Afghanistan (CSTC-A) is disciplined. Looking at these facts, he said, he wanted CSTC-A in charge. He wanted the ANP to become a model security institution just like the Afghan National Army (ANA) and National Directorate for Security (NDS), and the contractors were not producing what was desired. He suggested that the U.S. establish and independent commission to review the mentor situation, an idea he said Ambassador Eikenberry had first raised. Atmar added that he also wanted tighter control over Afghan employees. He was convinced that the Kunduz incident, and other events where mentors had obtained drugs, could not have happened without Afghan participation.

http://wikileaks.ch/cable/2009/06/09KABUL1651.html
Wo die SPD Profi Verbrecher auftauchten, für ihre Geschäfte, da wurden man immer gut mit allen Sex Wünschen von der Mafia versorgt. Das zieht sich mehr wie deutlich, um den Globus.
Deutsche Profi Verbrecher, müssen ja auch versorgt werden, wo der Kosovo das Vorbild ist.
Kommentar: Die Privatisierung des Ferronikei-Komplex, gilt als kriminellsten Geschäft im Kosovo, wo einwandfrei auch nicht die besten Bieter zum Zuge kamen, und die Verbrecher Firma Thyssen (siehe Schreiber, U-Boote nach Athen mit faulen KfW Krediten usw..) erneut über Tarn Firmen auftrat. Natürlich immer dabei: Kriminelle Deutsche Diplomaten, welche die Kosovo Mafia, wie bewiesen Stapelweise mit Visas versorgte um Geschäfte zu machen.
Michael Schäfer, ist ein Muster Beispiel, wie Politik und das Auswärtige Amt , von einer hoch kriminellen Mafia übernommen wird, nur um Geschäfte zu machen. Visa Besorgung für die Drogen Mafia, damit hatte Michael Schäfer nie ein Problem, weil die General Staatsanwaltschaft Berlin, Partner der Internationalen Mafia ist und solche Leute deckt. Aus der Körber Stiftung und heute Botschafter in China. Deshalb geht es halt mit solchen Leuten auch mit dem Export überall stark bergab.
Rudelweise, werden Leute finanziert, die nur Eines kennen! Alles korrumpieren und Mafiöse Strukturen pflegen.aus
Propaganda Sprachrohr der Albanischen Mafia: Gernot Erler (
1 2) 
 Wie Dr. Chr. Zöbel von der FES!
aus Balkan Spezial
[5] BKA Bericht, hierüber und der Visa Skandal, der Deutschen Diplomaten Mafia mit Joschka Fischer in Tirana, rund um die Kinder Mafia, des Alfred Horn.
The Whistleblower
17 September, 2010 | By Mark Adams, chief film critic
Dir: Larysa Kondracki. Canada-Germany. 2010. 105mins
Rachel Weisz shines with grim-faced determination in the brutally important film The Whistleblower, based on the true story of a United Nations peacekeeper who discovers friends and colleagues are involved in sex trafficking in post-War Bosnia. The film is a tough watch, not so much through its violence (much of which is implied), but because the subject matter is so harrowing.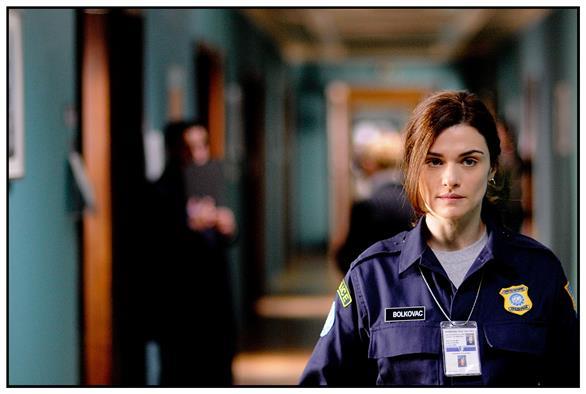 Rachel Weisz is quite superb as the tough but sensitive cop out of her depth in the wilds of post-War Bosnia.
Oscar-winner Weisz will make the film an intriguing option for distribs, and press will be guaranteed given the real-life story aspect. Though extremely well made, The Whistleblower is a little too earnest at times and would have benefited with a greater sense of peril to its forthright lead character. But it is a watchable and provocative film that should attract strong reviews.
The film opens in 1999 with single-mother Nebraska cop Kathryn Bolkovac (Weisz) struggling to make money needed to keep in touch with her daughter, who has moved to another state with her father. She takes a well-paid job with private contractor Democra Security, which hires US police officers to man UN peacekeeping missions around the world.
Arriving in Bosnia she quickly rises through the ranks given her practical policing knowledge and sense of wanting to do right, and is recruited to run the UN's Gender Office, which investigates sexual assault, domestic abuse and sec trafficking.
She comes into contact with two Ukrainian girls duped into travelling to Bosnia and subsequently kidnapped and forced into sexual slavery. One girl, Raya (Roxana Condurache) agrees to testify against her kidnappers and the UN workers that have abused her and are complicit to the sex trafficking. But she is kidnapped again, and later killed, leaving Kathryn more enraged about the world of sex-trafficking and building evidence against various UN employees.
She has the support of diplomat Madeleine Ross (Vanessa Redgrave), but finds her investigations blocked by both Democra and the UN itself. She manages to escape with the evidence, and in 2000 publically blows the whistle in the media on the UN and US State Department cover-up.
Rachel Weisz is quite superb as the tough but sensitive cop out of her depth in the wilds of post-War Bosnia, while Vanessa Redgrave offers up a nice – virtual cameo – performance as a woman trying to operate using diplomatic solutions, but constantly hampered in her efforts. Monica Belluci, though, is surprisingly muted as Laura Levin, the woman in charge of repatriating those caught up in the conflicts, delivering her lines rather ponderously and lacking her usual charisma.
The Whistleblower is a depressingly fascinating real-life story, and is a film that will stir emotions and focus attention (once again) on an important subject. It is efficiently directed by Larysa Kondracki, who – perhaps appropriately – lets the real fact tell the story rather than resorting to more simplistic movie devices. There are no gun battles or fist fights…merely one woman trying to do what is right.
Production companies: Whistleblower Canada, Barry Films
International sales: Voltage Pictures, www.voltagepictures.com