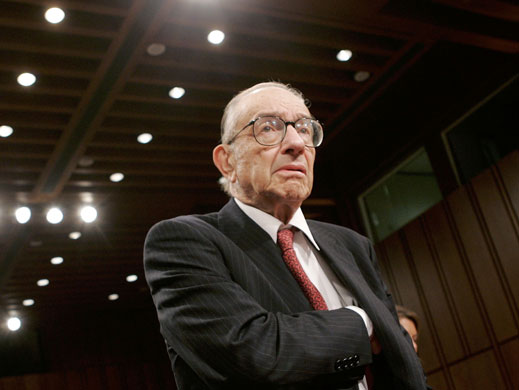 1 / 25
Alan Greenspan, chairman of US Federal Reserve 1987- 2006Photograph: Mark Wilson/Getty ImagesMervyn King, governor of the Bank of England

When Mervyn King settled his feet under the desk in his Threadneedle Street office, the UK economy was motoring along just nicely: GDP was growing at 3% and inflation was just 1.3%. Chairing his first meeting of the Bank's monetary policy committee (MPC), interest rates were cut to a post-war low of 3.5%. His ambition was that monetary policy decision-making should become "boring".How we would all like it to become boring now. When the crunch first took hold, the Aston Villa-supporting governor insisted it was not about to become an international crisis. In the first weeks of the crunch he refused to pump cash into the financial system and insisted that "moral hazard" meant that some banks should not be bailed out. The Treasury select committee has said King should have been "more pro-active".King's MPC should have realised there was a housing bubble developing and taken action to damp it down and, more recently, the committee should have seen the recession coming and cut interest rates far faster than it did.
Politicians
Bill Clinton, former US president

Clinton shares at least some of the blame for the current financial chaos. He beefed up the 1977 Community Reinvestment Act to force mortgage lenders to relax their rules to allow more socially disadvantaged borrowers to qualify for home loans.In 1999 Clinton repealed the Glass-Steagall Act, which ensured a complete separation between commercial banks, which accept deposits, and investment banks, which invest and take risks. The move prompted the era of the superbank and primed the sub-prime pump. The year before the repeal sub-prime loans were just 5% of all mortgage lending. By the time the credit crunch blew up it was approaching 30%.Gordon Brown, prime minister

The British prime minister seems to have been completely dazzled by the movers and shakers in the Square Mile, putting the City's interests ahead of other parts of the economy, such as manufacturers. He backed "light touch" regulation and a low-tax regime for the thousands of non-domiciled foreign bankers working in London and for the private equity business.George W Bush, former US president

Clinton might have started the sub-prime ball rolling, but the Bush administration certainly did little to put the brakes on the vast amount of mortgage cash being lent to "Ninja" (No income, no job applicants) borrowers who could not afford them. Neither did he rein back Wall Street with regulation (although the government did pass the Sarbanes-Oxley Act in the wake of the Enron scandal).Senator Phil Gramm

Former US senator from Texas, free market advocate with a PhD in economics who fought long and hard for financial deregulation. His work, encouraged by Clinton's administration, allowed the explosive growth of derivatives, including credit swaps.In 2001, he told a Senate debate: "Some people look at sub-prime lending and see evil. I look at sub-prime lending and I see the American dream in action."According to the New York Times, federal records show that from 1989 to 2002 he was the top recipient of campaign contributions from commercial banks and in the top five for donations from Wall Street. At an April 2000 Senate hearing after a visit to New York, he said: "When I am on Wall Street and I realise that that's the very nerve centre of American capitalism and I realise what capitalism has done for the working people of America, to me that's a holy place."He eventually left Capitol Hill to work for UBS as an investment banker.
Wall Street/Bankers
Abby Cohen, Goldman Sachs chief US strategist

The "perpetual bull". Once rated one of the most powerful women in the US. But so wrong, so often. She failed to see previous share price crashes and was famous for her upwards forecasts. Replaced last March.Kathleen Corbet, former CEO, Standard & Poor's

The credit-rating agencies were widely attacked for failing to warn of the risks posed by mortgage-backed securities. Kathleen Corbet ran the largest of the big three agencies, Standard & Poor's, and quit in August 2007, amid a hail of criticism. The agencies have been accused of acting as cheerleaders, assigning the top AAA rating to collateralised debt obligations, the often incomprehensible mortgage-backed securities that turned toxic. The industry argues it did its best with the information available.Corbet said her decision to leave the agency had been "long planned" and denied that she had been put under any pressure to quit. She kept a relatively low profile and had been hired to run S&P in 2004 from the investment firm Alliance Capital Management.Investigations by the Securities and Exchange Commission and the New York attorney general among others have focused on whether the agencies are compromised by earning fees from the banks that issue the debt they rate. The reputation of the industry was savaged by a blistering report by the SEC that contained dozens of internal emails that suggested they had betrayed investors' trust. "Let's hope we are all wealthy and retired by the time this house of cards falters," one unnamed S&P analyst wrote. In another, an S&P employee wrote:"It could be structured by cows and we would rate it."  http://www.guardian.co.uk  Chuck Prince, former Citi boss

A lawyer by training, Prince had built Citi into the biggest bank in the world, with a sprawling structure that covered investment banking, high-street banking and wealthy management for the richest clients. When profits went into reverse in 2007, he insisted it was just a hiccup, but he was forced out after multibillion-dollar losses on sub-prime business started to surface. He received about $140m to ease his pain.Christopher Dodd, chairman, Senate banking committee (Democrat)

Consistently resisted efforts to tighten regulation on the mortgage finance firms Fannie Mae and Freddie Mac. He pushed to broaden their role to dodgier mortgages in an effort to help home ownership for the poor. Received $165,000 in donations from Fannie and Freddie from 1989 to 2008, more than anyone else in Congress.Geir Haarde, Icelandic prime minister

He announced on Friday that he would step down and call an early election in May, after violent anti-government protests fuelled by his handling of the financial crisis. Last October Iceland's three biggest commercial banks collapsed under billions of dollars of debts. The country was forced to borrow $2.1bn from the International Monetary Fund and take loans from several European countries. Announcing his resignation, Haarde said he had throat cancer.  Andrew LahdeA hedge fund boss who quit the industry in October thanking "stupid" traders and "idiots" for making him rich. He made millions by betting against sub-prime.John Paulson, hedge fund bossHe has been described as the "world's biggest winner" from the credit crunch, earning $3.7bn (£1.9bn) in 2007 by "shorting" the US mortgage market – betting that the housing bubble was about to burst. In an apparent response to criticism that he was profiting from misery, Paulson gave $15m to a charity aiding people fighting foreclosure.Professor Nouriel RoubiniDescribed by the New York Times as Dr Doom, the economist from New York University was warning that financial crisis was on the way in 2006, when he told economists at the IMF that the US would face a once-in-a-lifetime housing bust, oil shock and a deep recession.He remains a pessimist. He predicted last week that losses in the US financial system could hit $3.6tn before the credit crunch ends – which, he said, means the entire US banking system is in effect bankrupt. After last year's bail-outs and nationalisations, he famously described George Bush, Henry Paulson and Ben Bernanke as "a troika of Bolsheviks who turned the USA into the United Socialist State Republic of America".Warren Buffett, billionaire investorDubbed the Sage of Omaha, Buffett had long warned about the dangers of dodgy derivatives that no one understood and said often that Wall Street's finest were grossly overpaid. In his annual letter to shareholders in 2003, he compared complex derivative contracts to hell: "Easy to enter and almost impossible to exit." On an optimistic note, Buffett wrote in October that he had begun buying shares on the US stockmarket again, suggesting the worst of the credit crunch might be over. Now is a great time to "buy a slice of America's future at a marked-down price", he said.George Soros, speculatorThe billionaire financier, philanthropist and backer of the Democrats told an audience in Singapore in January 2006 that stockmarkets were at their peak, and that the US and global economies should brace themselves for a recession and a possible "hard landing". He also warned of "a gigantic real estate bubble" inflated by reckless lenders, encouraging homeowners to remortgage and offering interest-only deals. Earlier this year Soros described a 25-year "super bubble" that is bursting, blaming unfathomable financial instruments, deregulation and globalisation. He has since characterised the financial crisis as the worst since the Great Depression.Stephen Eismann, hedge fund managerAn analyst and fund manager who tracked the sub-prime market from the early 1990s. "You have to understand," he says, "I did sub-prime first. I lived with the worst first. These guys lied to infinity. What I learned from that experience was that Wall Street didn't give a shit what it sold."Meredith Whitney, Oppenheimer Securities On 31 October 2007 the analyst forecast that Citigroup had to slash its dividend or face bankruptcy. A day later $370bn had been wiped off financial stocks on Wall Street. Within days the boss of Citigroup was out and the dividend had been slashed.• Tomorrow in part three of the Road to Ruin series – The Barons of Bankruptcy – how going bust can be a profitable business http://www.guardian.co.uk
Finanzkrise: Britischer "Guardian" nennt Schuldige
MOSKAU, 26. Januar (RIA Novosti). Die britische Zeitung "Guardian" hat am Montag die Liste von 25 namhaften Personen veröffentlicht, die nach Meinung der Zeitung an der Entstehung und Entwicklung der gegenwärtigen Finanzkrise schuld sind.Die gegenwärtige Finanzkrise sei keine Naturerscheinung, sondern eine von Menschenhand geschaffene Katastrophe "und wir alle sind teilweise daran schuld", schreibt die Verfasserin des Artikels Julia Finch.Die Liste "der Schuldigen" wird vom ehemaligen Chef des Föderalen Reservesystems der USA, Alan Greenspan, angeführt, der "die Hypothekenblase infolge niedriger Zinssätze und einer mangelnden Regelung im Bereich der Hypothekenanleihen hatte wachsen lassen".Finch macht auch weitere Politiker für die Krise verantwortlich, darunter auch den ehemaligen US-Präsidenten Bill Clinton. Während seiner Amtszeit wurde eine Reihe von Gesetzen angenommen, die weniger vermögenden Bevölkerungsschichten die Aufnahme von Bankkrediten für den Kauf von Wohnungen ermöglicht hatten.Ihm folgt George Bush, der diesen Prozess nicht gestoppt und dessen Dimensionen sogar vergrößert hat.Als weiterer Schuldiger wird der britische Premierminister Gordon Brown genannt, der "die Interessen der Finanziers über die Interessen der Vertreter des übrigen Teils der Wirtschaft, etwa der Produzenten, gestellt hatte".Auf der Liste stehen auch ehemalige und jetzige verantwortliche Mitarbeiter der größten Finanzinstitute der USA und Großbritanniens, so der Versicherungsgesellschaft American International Group Inc. sowie der Banken Goldman Sachs, Lehman Brothers, Merrill Lynch, Halifax Bank of Scotland, Royal Bank of Scotland, Bradfort & Bingley, Northern Rock, Bear Stearns und Bank of England.Die Zeitung beschuldigt auch den Finanzier George Soros, den Milliardär Warren Buffett und den Chef des amerikanischen Hedge-Fonds, John Paulson, die "den Anmarsch der Krise sehr wohl gesehen hatten". ————————————————  
  Die Bank Gangster auch aus Deutschland wie Josef Ackermann, der Beteiligungen und Mentor der US Banken war, gehört verhaftet und das gesamte Vermögen beschlagnahmt, wie auch von Jörg Asmussen. 
Warum solch durchgeknallte Pseudo Experten wie Jörg Asmussen, jemals Ministerial Räte werden konnten, gehört in die Abteilung Politischer Betrug. Bank Räuber werden verhaftet, aber ein Beamter, der aktiv Milliarden verschwinden lässt, kann seinen Senf und sein Dumm Geschnack, Straffrei weiter verbreiten.   
Die Georg Soros Betrugs und Gangster Bande, will also 1,5 Billiarden! Nur wo bleibt die Deckung, wenn man billiges Papier druckt und inzwischen sogar die US Militärs in Afghanistan ihre eigene Dollar unkontrolliert drucken.
31.01.2009 / Kapital & Arbeit / Seite 9Inhalt
Billionen ohne Ende
US-Banken manövrieren trotz gigantischem Rettungspaket weiter am Rand des Abgrunds
Von Rainer Rupp
Wachsender Unmut gegen Hilfen für Banken: Protestaktion vor der US-Börse in der Wall Street im September 2008
Foto: AP
Zur Rekapitalisierung des US-Finanzsystems seien mindestens weitere 1,5 Billionen Dollar (1150 Milliarden Euro) nötig, sagte der bekannte Fondsmanager und Finanzguru George Soros diese Woche beim Weltwirtschaftsforum in Davos. Die bisherigen Hilfen seien lediglich ein Tropfen auf den heißen Stein gewesen. Vor der Schaffung einer sogenannten Bad Bank, ein Konzept, das nun auch in Deutschland Realität werden soll, rät er jedoch resolut ab.
………………
Die Tatsache, daß die US-Spitzenbanker sich trotz der Finanzkrise im Jahr 2008 gegenseitig weiter mit riesigen Bonuszahlungen bedacht hatten, zeigt, sie wollen schlicht keine Lehren aus dem Fiasko ziehen (zumal die Bonuszahlungen diesmal nicht aus Gewinnen, sondern von der Substanz der Banken und aus staatlichen Hilfen stammten). Die Selbstbedienungsmentalität in den Führungsetagen der Finanzkonzerne, die energische Bereitschaft, sich auf Kosten der Allgemeinheit zu bereichern, existiert offensichtlich weiter. Es schert die Manager nicht einmal, daß die Struktur des westlichen Finanzsystems nach wie vor vor dem Kollaps steht und die reale Wirtschaft mit in den Sog gezogen hat.
http://www.jungewelt.de/2009/01-31/051.php
update: 29.12.2013: Philip Rösler wird nach der FDP Pleite bei den Wahlen, für das vollkommen unnütze Weltwirtsschafts Forum in Davos als Geschäftführer arbeiten. einer der vielen unnützen Posten, Jobs, der Stiftungen und Pseudo Organisationen.
Vergangene Woche wurde bekannt, dass Rösler im Februar einer der Geschäftsführer des Weltwirtschaftsforums wird, das die jährliche Konferenz der globalen Wirtschafts- und Politikelite in Davos organisiert.
Sein Vorgänger dort, Norwegens Ex-Wirtschaftsminister Børge Brende, war nach der Tätigkeit beim Weltwirtschaftsforum wieder in die Politik zurückgekehrt und Außenminister geworden. Rösler ist nach eigenen Angaben als einer von sechs Stiftungsvorständen für alle Regierungskontakte und "regionale Aktivitäten außerhalb der Schweiz" zuständig. Er bezeichnete seine Rolle als "eine Art Chefdiplomat".